Kameoka Guide
Green, fresh peaceful Kameoka: A charming old castle town full of surprises 亀岡市
Kameoka city, with a current population of roughly 100,000, is located about 20 kilometers west of Kyoto. Like many smaller cities in Japan, Kameoka has largely managed to preserve its special sense of heritage.
Many temples and shrines from Kameoka's long history remain in excellent condition in their beautiful and natural surroundings, attracting many visitors throughout the year, hoping for good luck and fortune.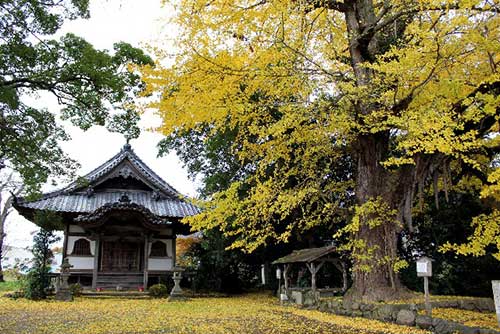 Gingko tree at Tamba-Kokubunji Temple, Kameoka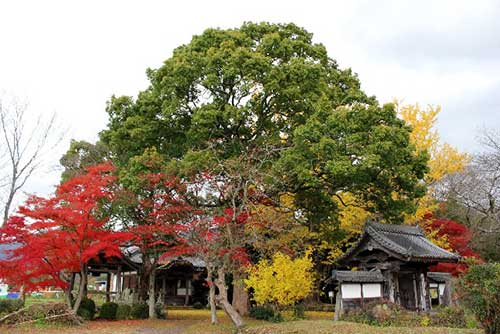 Fall Colors at Tamba-Kokubunji Temple in Kameoka
History of Kameoka
Since early times, Kameoka has served as an important gateway to the area known as Kuchi Tamba. When the capital of Japan moved to Kyoto in 794, Kameoka served as a key transport hub for lumber shipments, as well as serving as a vital link between Kyoto, Osaka, and the Sanin region (Yamaguchi, Shimane and Tottori prefectures).
During the Tensho era (1573-1586), Akechi Mitsuhide (1526-1582) made Kameoka his base and built Kameyama Castle, laying the foundation for much of the old city that remains today.
A principal captain of warlord Oda Nobunaga in the mid-16th century, Akechi Mitsuhide, in one of Japan's most bizarre military reversals, attacked Nobunaga at Honno-ji Temple (now located across from Kyoto City Hall) with 30,000 men.
Vastly outnumbered, and suffering from a serious sword wound, Nobunaga set the temple on fire and committed suicide. Declaring himself the new ruler of Japan, Akechi began to set himself up in grand style in Kyoto. He died 13 days later, fleeing the wrath of Nobunaga's powerful lieutenant Toyotomi Hideyoshi. He became known as the "13-day shogun" as a result.
But Kameoka remained an important gateway to the imperial capital, Kyoto. Starting in 1748, for 120 years, Kameoka was ruled over by the Matsudaira family. Kameyama Castle was dismantled in 1878 as part of the Meiji modernization.
Some of Japan's greatest philosophers and artists came from Kameoka. Among them Maruyama Okyo and Ishida Baigan are particularly well-known. Maruyama Okyo (1733-1795) fused Eastern art traditions and is particularly famous for his sliding door and folding screen paintings. The group of sliding door paintings at Kongo-ji Temple (金剛寺) in Kameoka are outstanding examples of his work.
Ishida Baigan (1685-1744) is considered the father of Japanese moral philosophy, which greatly affected Japanese culture. Ishida strove for living study, mixing various scholastic genres, and placed frugality as the basis of his ethics.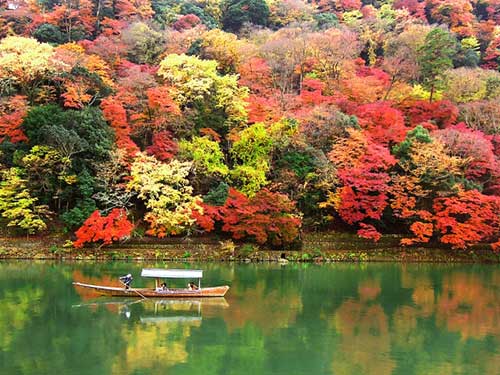 A Hozu River Boat Cruise with spectacular autumn leaves in Arashiyama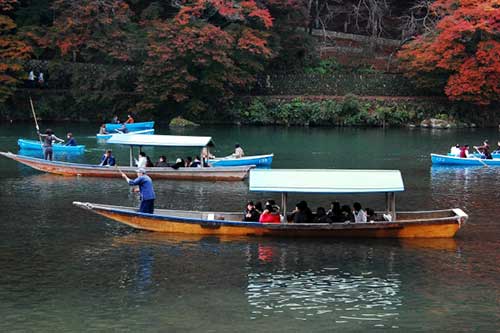 A Hozu River Boat Cruise from Kameoka to Arashiyama
Kameoka Attractions
Anao Temple 穴太寺
Only one of 21 temples in western Japan authorized to issue amulets in the name of the Bodhisattva Kannon, Anao-ji Temple is particularly beneficial for people seeking to improve their health. The wooden Gautama Buddha statue at the temple is famous; if you touch the part of statue's body where you have pain, your pain will suddenly disappear.
Kameoka Sports Park
This spacious park has a huge leisure pool, a track & field area, nine tennis courts, a gymnasium and a baseball field. The leisure pool is nearly 200 meters long and has a 100 meter water slide. You can get to the park (in 10 min.) on a free shuttle bus from Kameoka JR Station.
Kameoka Sake Factory Area
This area, located a short distance northeast of central Kameoka, is home to many small sake breweries.
Kameoka International Exchange Memorial Park and Center
This huge area of greenery and open space is made up of several zones connected with Kameoka's sister cities. The Kameoka International Center (KIC) has an excellent library and many other fun facilities.It is located near Chiyokawa Station and was originally the site of the Oklahoma State University-Kameoka Campus.There are tennis courts and a baseball ground.
Tamba-Kokubunji Temple 丹波国分寺
Tamba-Kokubunji Temple is an historic temple north of Kameoka with the present temple buildings dating from the late-18th century. The temple grounds are noted for their ancient trees including a 22m-tall gingko tree. Kokubun-ji temples were Buddhist temples established in every province of Japan by Emperor Shomu during the Nara Period (710-794).
Yuno Hana Hot Springs
It is said that about 400 years ago a samurai with a serious sword wound came to these hot springs to rest and was quickly healed.  Today, the Yuno Hana springs have a reputation for healing neuroses, rheumatism, skin diseases, and stomach aches.
Nonbiri Castle Town Historical Walk
This relaxing historical walk will take you through the old heart of Kameoka. On the way you will pass the remains of Kameyama Castle, currently home to the Omoto religious and cultural organization.
The walk also leads to a number of superbly preserved temples and shrines. Kuwayama Jinja Shrine is home to the deity of the Tamba region and the host shrine of the Kameoka Festival held in October when 11 large floats are paraded through town.
Seirin-ji Temple (聖隣寺) is famous for 1-meter-high statue of Bishamon Tenritsu and has connections with Akechi Mitsuhide. At Kochu-ji, the Matsudaira clan temple, which is well known for its peonies in early summer, you can feel the ages of Japan's past. Another interesting site on the walk is Tanaka Gentaro's house. Founder of the Torokko train line, his beautiful, former home now functions as a Japanese inn and restaurant.
Kameoka Festivals
Kameoka has a number of festivals throughout the year. Anaoji Temple's Fukutabae is held on January 3 when red pieces of paper are thrown from the temple among white pieces in a ratio of 3/1000. Catching a red one brings you luck. Kameoka Mitsuhide Festival held on May 3 is dedicated to Akechi Mitsuhide with parades in samurai costume. The Kameoka Peace Festival is an Obon Dance held on August 6-7 in the city streets followed by the Hozugawa River Fireworks Festival on the evening of August 7. The Saeki Lantern Festival is a harvest festival at Hiedano Jinja using traditional puppets. The Kameoka Festival in late October is akin to Kyoto's more famous Gion Matsuri and involves a procession of large floats through the city's streets.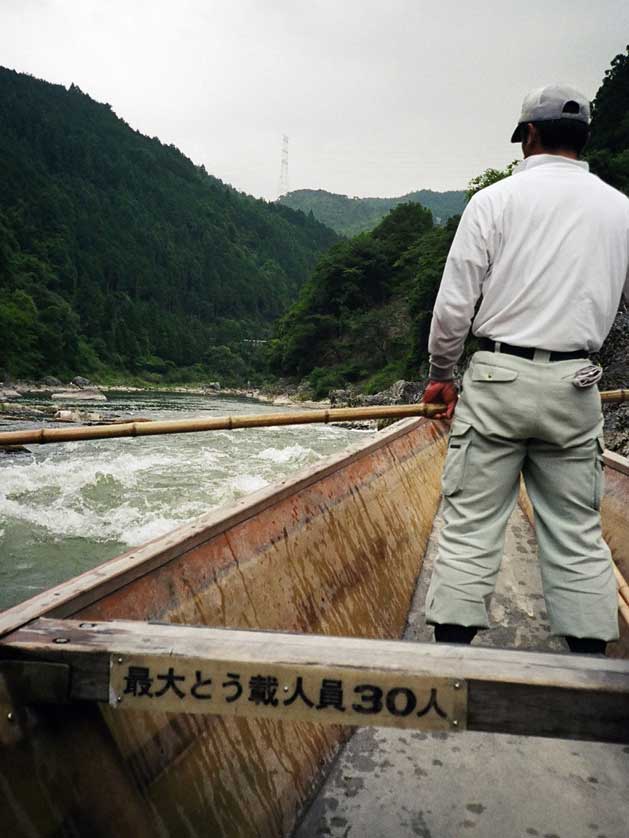 Shooting some mild rapids on the Hozu River Boat Trip, Arashiyama, Kyoto
Returning to Kyoto on the wild Hozukudari River Run
The hozugawa kudari, the Japanese name for the fun boat trip down the Hozugawa River from Kameoka to Arashiyama (in western Kyoto), is one of the more unusual and exciting experiences you can have in Kyoto.
It takes about two hours for the 16 km trip along a semi mountainous, river 'canyon'. The channel of this river was opened by Suminokura Ryoi 400 years ago during the Edo Period in 1606 to transport wood for Kyoto's many temples, rice and other foodstuffs from Kameoka and further afield to Kyoto. In fact, the river had been used even earlier when the capital was at Nagaoka-kyo.
In 1895, pleasure boats began making the trip. Today, more than 300,000 tourists travel down the river each year. Each boat seats about 15 people and is equipped with a roof should it rain. Each boat is navigated by two boatmen using oars and long, bamboo poles.
Boats run from Kameoka on the hour from 9 am to 2 pm and at 3.30 pm. The fare is 4,100 yen for adults and 2,700 yen for 4 y.o. to elementary school age.
The 16km Hozu River Boat Trip is particularly popular in spring to see the cherry blossoms and in autumn to view Arashiyama's spectacular autumn leaves.
Boats run from Kameoka on the hour from 9 am to 2 pm and at 3.30 pm and the fare is 4,100 yen for adults and 2,700 yen for 4 year olds to elementary school age. Times change in the winter season with departures at 10 am, 11 am, 1 pm and 2.30 pm. Departures on weekends and public holidays are irregular, with increased sailings. The departure point for the boats is a 10 minute walk from JR Kameoka Station.
Kameoka Traditional Crafts & Special Foods
Bishamon Bamboo Work
Using local bamboo, artisans produce baskets, flower vases, and cake holders, among many other things. 
Kameoka Pottery
Currently many young potters from Kyoto have settled in Kameoka to find new outlets for their creative energies.
Soy Sauce
Made by hand, Kameoka's famous soy sauce can be found in supermarkets and specialty shops throughout Japan.
Tamba Sake
The delicious water and rice grown in this area produces some of the best tasting rice wine in the Kansai area.
Tamba Matsutake
These mushrooms are famous for their delicious aroma and flavor.
Tamba Chestnuts
These renowned chestnuts are not only delicious roasted, but are also used in Japanese cakes and candies.
Hotel Accommodation in Kameoka
With hotel accommodation in Kyoto getting increasingly hard to find, Kameoka makes an alternative place to base for easy access to Kyoto in a less touristy atmosphere. Out in Yunohana Onsen are the Kyo Yunohana Resort Suisen and the Satoyama no Kyujitsu Kyoto Keburikawa. East of Kameoka Sports Park is the Keizankaku Hotel.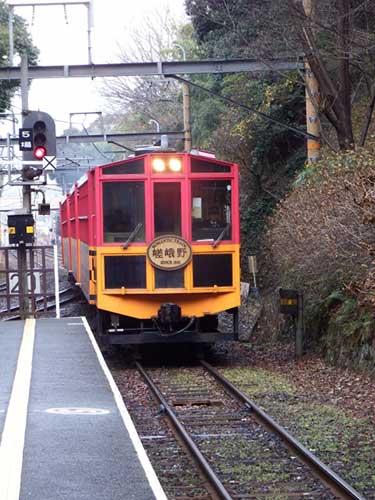 Torokko Train from Arashiyama to Kameoka
Access - Getting to Kameoka
Kameoka Station is just 18-30 minutes from Kyoto Station depending whether you take the Limited Express to Toyooka in Hyogo or a local train on the JR Sagano Line to Sonobe. The journey costs 410 yen.
The most scenic way to get to Kameoka is on the romantic, open-air Torokko.  There are eight trains each day from Saga-Kameoka Torokko Station and eight trains from Kameoka Torokko Station-Saga with the first train departing at around 9.07 am and the last at 4.07 pm from Saga. Trains depart Kameoka Torokko Station at 35 minutes past the hour with the first at 9.35 am and the last at 4.35 pm. Fares are 620 yen for adults and 310 yen for children. In high season visitors are advised to book in advance.
Kameoka Station, Kyoto Prefecture
Written by Ian Ropke
Kameoka: read a guide to Kameoka, a small, pleasant city a short distance west of Kyoto.
All the themes of the city