Teramachi Walk II
Kyoto District Guides: Teramachi Dori Part II, Kyoto 寺町
This self-guided walking tour of Teramachi in Kyoto is based on Judith Clancy's excellent book Exploring Kyoto: On Foot in the Ancient Capital.
Part of the fun of following her words is the joy of recognition as you find the many historic Buddhist statues, graves, shops and restaurants the author points out along the way.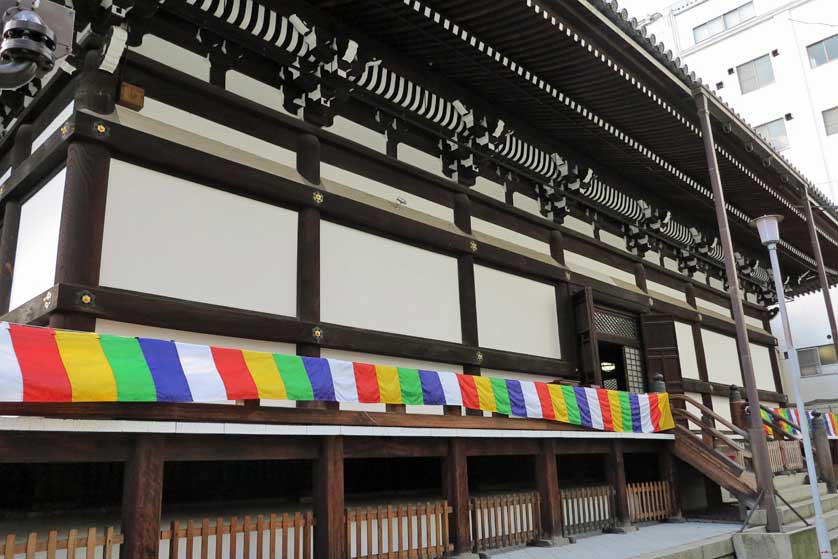 Honnoji Temple, Teramachi, Kyoto
The walk starts from Kuramaguchi Station on the Karasuma Line of the Kyoto subway and finishes on Shijo Dori in downtown Kyoto's main shopping area near Nishiki Market.
In all, the walk takes the best part of the day, around six hours. You may well want to divide it into two half-day walks or choose just one half.
The northern half from Kuramaguchi to Marutamachi is mainly rather unvisited, historic temples and shrines, where it would be rare to encounter many other tourists except at Shokokuji Temple. This part can also be covered by hire cycle, whereas cycling is not possible in the shopping arcades in the southern half.
The southern half of the walk (of which this is the guide) runs south from Imadegawa to Shijo and includes the popular shopping arcades (shotengai) of Teramachi, Shinkyogoku, and Nishiki thronged with tourists and local shoppers enjoying the many specialist shops, selling unique and expensive, traditional Kyoto arts and crafts, souvenir stores hawking cheap tat and a variety of restaurants from 400 year-old Edo Period eateries to McDonalds and Starbucks.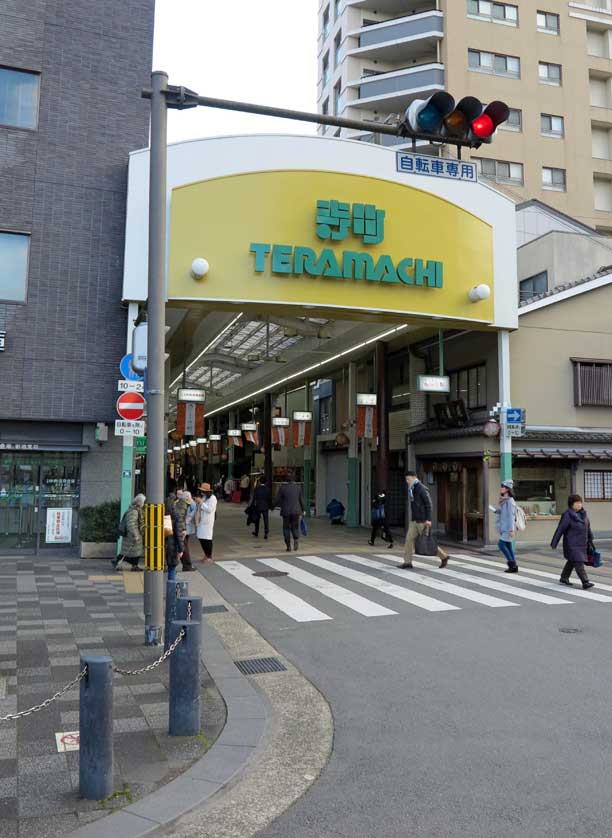 Teramachi covered arcade (Shotengai), Kyoto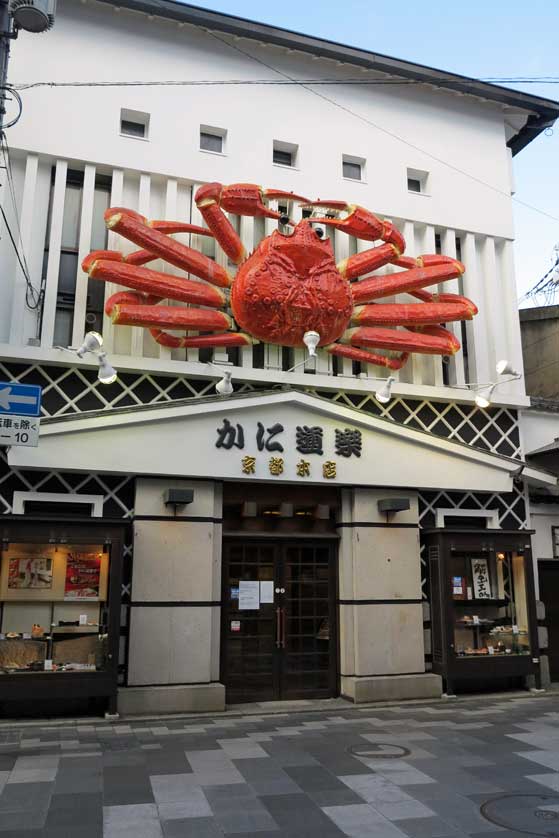 Kani Doraku Restaurant at the intersection of Sanjo and Teramachi, Kyoto
Teramachi History
The history of Teramachi ("Temple District") really begins with the warlord Toyotomi Hideyoshi who reorganized the streets in Kyoto and moved many of the city's temples to Teramachi, Shimo Teramachi and Teranouchi.
On the whole, the temples on Teramachi are located on the eastern side of the street, or on your left, as you walk north to south.
After the relocation of the capital from Kyoto to Tokyo in 1868, and the Meiji government's initial prejudice against Buddhism, which was seen as a "foreign" influence, many of the temples on the walk lost some of their prestige and importance. Judith Clancy describes them as "modest" - which with the exception of Shokokuji they are. This also means that the majority of them are free to enter.
Mt.Hiei is a landmark to your left (east) as you walk down Teramachi and like all places in Japan, Teramachi is probably best strolled during the cherry blossom in spring or autumn leaf viewing season in the fall.
Some of the temples on the walk use Mt. Hiei as borrowed scenery in their gardens.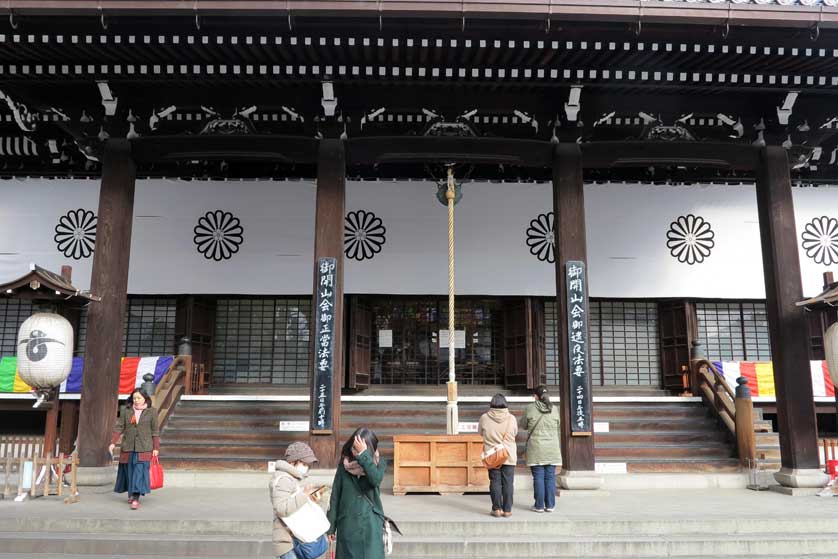 Honnoji Temple, Teramachi, Kyoto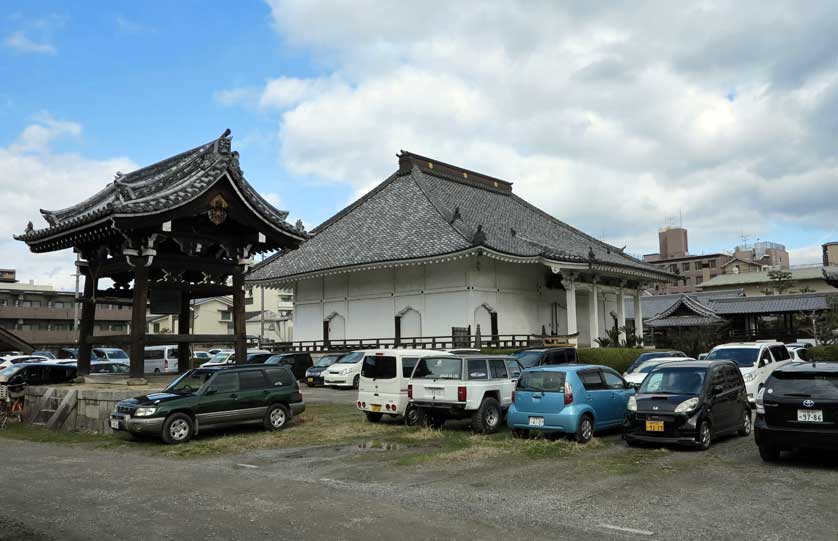 Honzenji Temple, Teramachi, Kyoto
Honzenji 本山本禅寺
Honzenji is the first temple on your left (east side) as you walk south on Teramachi from Imadegawa. Much of the temple grounds are now taken up by a parking lot, with only a "lone white concrete building with cusped windows" among the cars as Clancy describes it. That description is still apt today.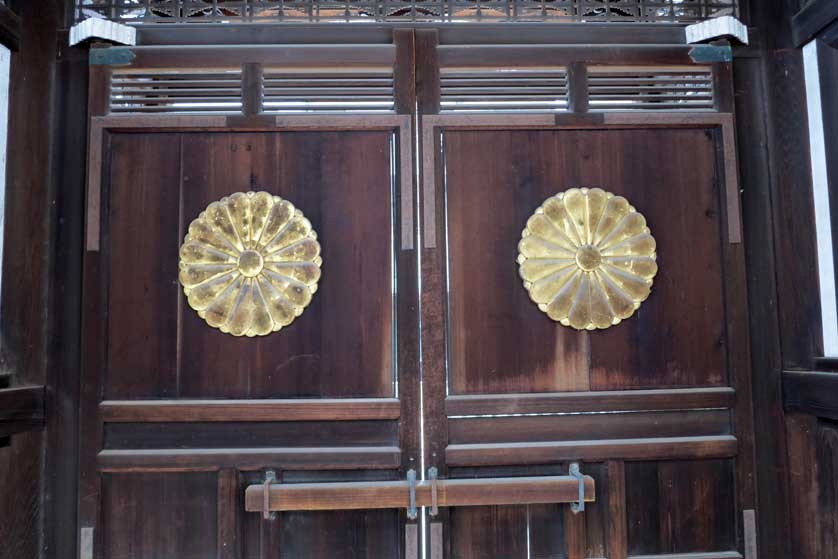 Gold chrysanthemum crests on the wooden gates of Shojoke-in Temple, Teramachi, Kyoto
Shojoke-in 清浄華院
Shojoke-in is an imperial temple identified by the gold chrysanthemum crests on its wooden gates. Much of the grounds are now taken up by housing for the elderly. The temple cemetery contains the graves of several members of the imperial family.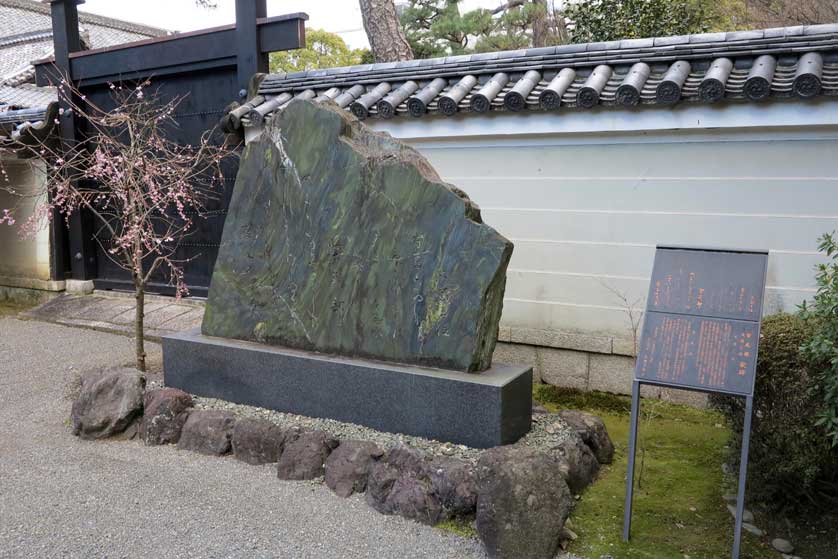 Memorial stone dedicated to Murasaki Shikibu at Rozanji Temple, Teramachi, Kyoto
Rozanji 蘆山寺
Rozanji Temple is the next temple south. The Enjo sect temple grounds are associated with Murasaki Shikibu (973-c. 1014 or 1025), the author of the Diary of Lady Murasaki and The Tale of Genji.
Her father Fujiwara Kanesuke, a court official, built his mansion where the present-day temple is now located. It is thought that Murasaki Shikibu wrote her great works on this very spot and a memorial stone to her stands in front of the temple.
Exhibits in the Main Hall (400 yen) include original roof tiles and reproductions of the Tale of Genji.
The eerie cemetery of the temple contains part of the old Odoi wall built by Hideyoshi Toyotomi to protect the capital at the end of the 16th century.
Opposite Rozanji on the west side of Teramachi is Nashinoki Shrine, which was founded in the Meiji Period and enshrines Sanetsumu Sanjo (1802-1859) and his son Sanetomo, who were both imperial advisers in the late Edo Period, a time marked by political upheaval and violence.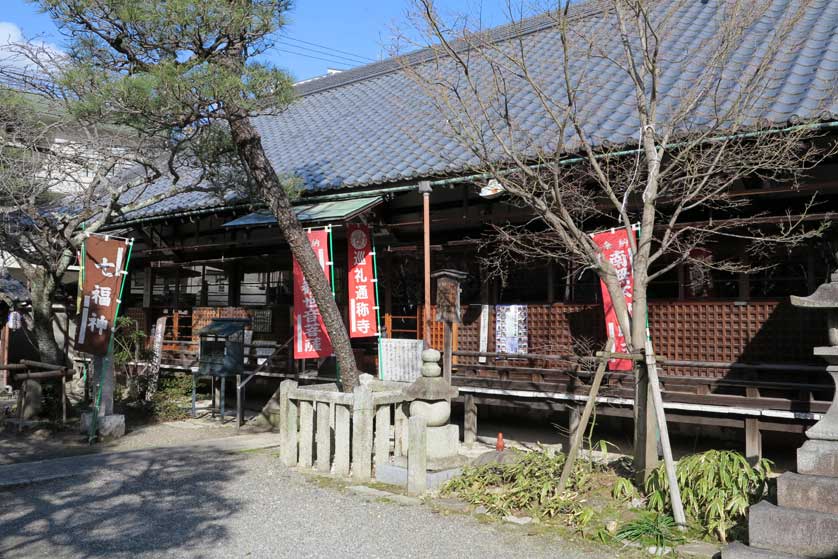 Gojoin Temple, Teramachi, Kyoto
Gojoin 護浄院
Gojoin, a short walk east on Kojinguchidori, is a small Tendai Buddhist temple dedicated to the deity of fire or the hearth.
Metal fire tongs are left here as offerings and can be seen on display in a glass case. On the 28th of each month, ema (votive plaques) are consumed in a monthly fire festival.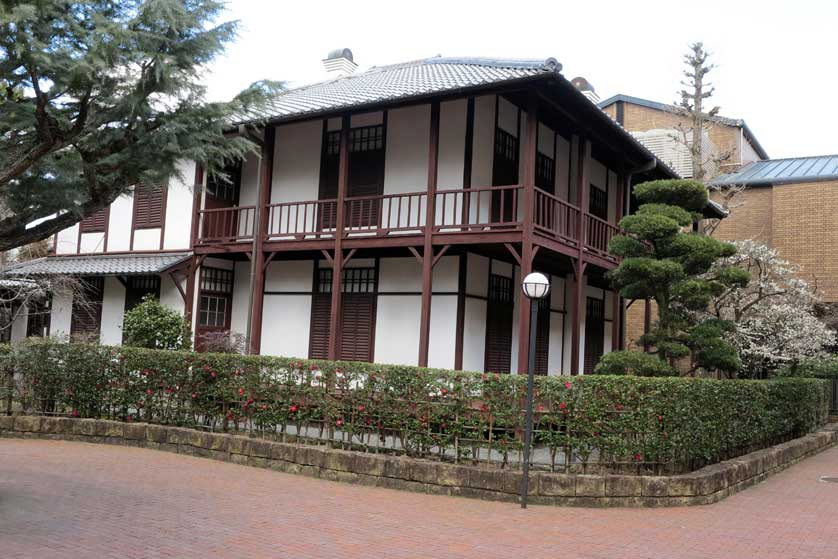 Niijima Alumni Hall, Teramachi, Kyoto
Niijima Alumni Hall 新島旧邸
The Niijima Alumni Hall across from the Imperial Palace includes a modern building belonging to Doshisha University ((Doshisha Alumni Association Niijima Kaikan) and the former residence of the university's founder Niijima Jo (1843-90), who left Japan during the Edo Period (when it was still prohibited for Japanese to leave the country) to study at Amherst College in America.
Niijima was to return to Japan as a Protestant missionary and educator. The western-style house (aka Niijima Mansion) was constructed in 1878.
Just north of here is the The Kyoto City Library of Historical Documents, a vast resource of documents and books relating to the history of Kyoto which is open to scholars.
Shimo Goryo Shrine, Teramachi, Kyoto
Shimo Goryo Shrine 下御霊神社
Crossing Marutamachi Street is the the rather ramshackle Shimo Goryo Shrine, moved here in 1590. The main gate came from Kyoto's Imperial Palace (Gosho) also in 1590.
The Main Hall of Shimo Goryo Shrine dates from 1791 and was also transferred here from the nearby Imperial Palace. This is the sister shrine of Kami Goryo Shrine on the northern part of the Teramachi walk. Opposite the shrine is the four star boutique hotel, The Screen, with individually designed rooms. At the other end of the financial scale, behind the shrine, is the one star Guesthouse Kyoto Abiya.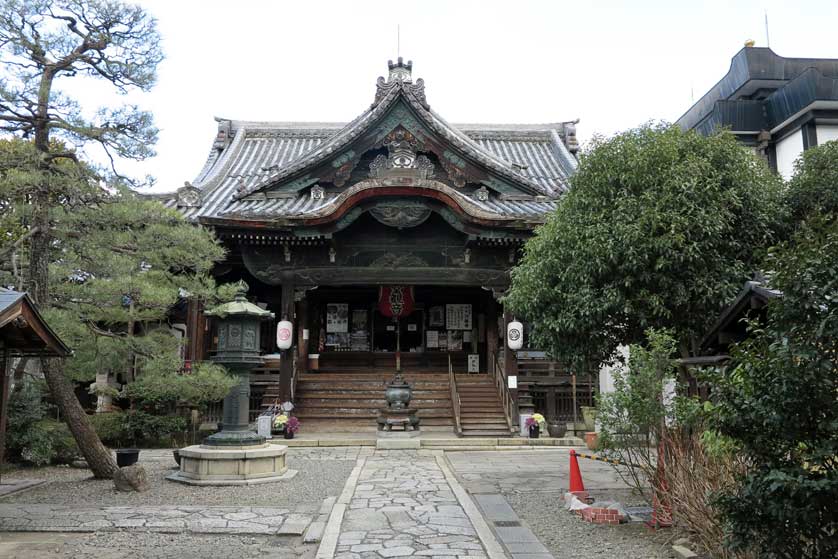 Kodo Temple, Teramachi, Kyoto
Kodo 行願寺
Kodo Temple, aka Gyoganji, is a Tendai-sect temple founded in 1005 by the monk Gyoen Shonin.
The monk is said to have killed a pregnant deer while hunting, prompting him to give up hunting, become a vegetarian and travel the land "wearing the hide on his back preaching Buddhism."
The main image in the temple is a Thousand-Armed Kannon, along with an ancient Jizo, carved in the 13th century. The Main Hall dates from 1815. Just south of Gyoganji is the recommended three star, Seibido Inn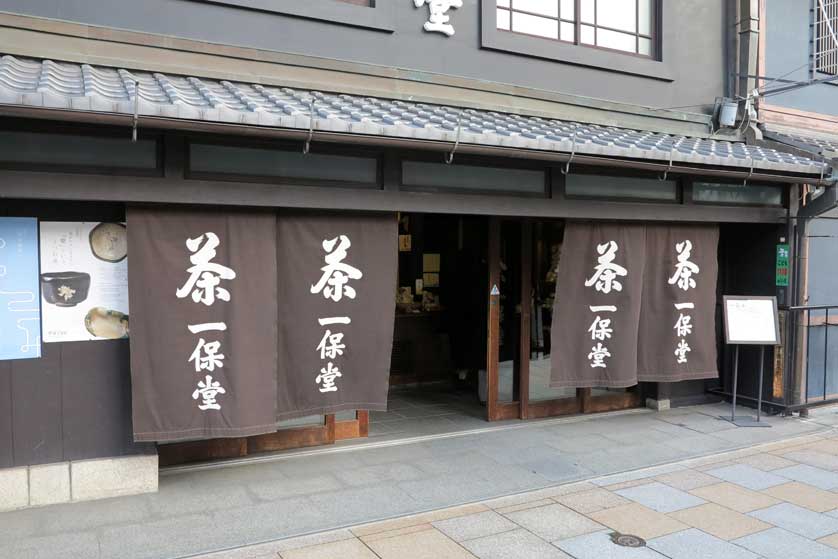 Ippodo Tea House, Teramachi, Kyoto
Ippodo 一保堂
Ippodo is one of Kyoto's most famous tea shops, established in 1846 and selling green tea and matcha from Uji.
English menus are available for guests to enjoy Japanese tea and sweets in an historic environment. Ippodo is one of Kyoto's most popular tea shops but is large enough not to feel too crowded. Next door is Kamiji Kakimoto selling traditional mulberry paper and stationary sets.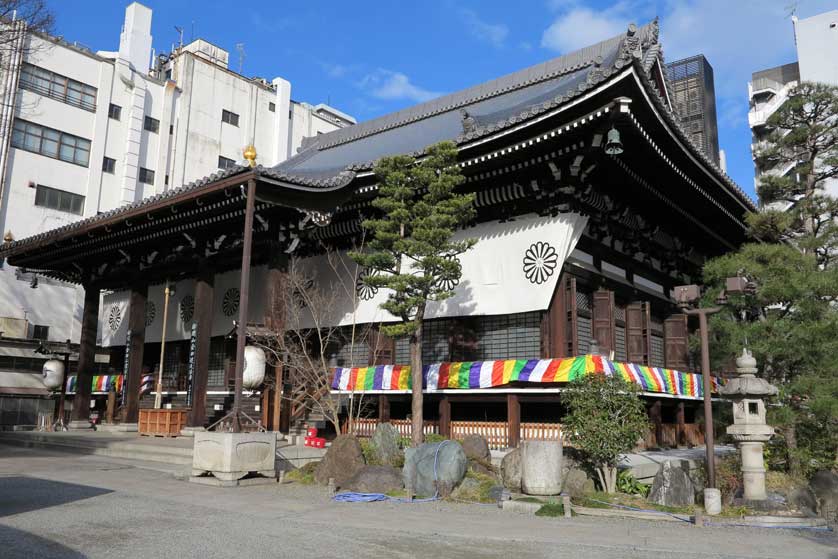 Honnoji Temple, Kyoto
Honnoji 本能寺
Honnoji Temple is a large temple complex, just south of Oike Street and Kyoto City Hall, and is best known for being the place where Oda Nobunaga met his end.
Honnoji Temple was founded in 1415, and it belongs to the Nichiren sect. It was formerly located a short distance south at Shijo and Nishinotoin streets. Like much of Kyoto, though, it was destroyed by fire many times, and it was moved to its current location in 1589. Within the grounds is a memorial to Oda Nobunaga.
Here Teramachi becomes a covered arcade shopping street or shotengai and this stretch of Teramachi is one of the most popular shopping areas in Kyoto along with the parallel streets of Shin Kyogoku, also a roofed arcade, and Kawaramachi.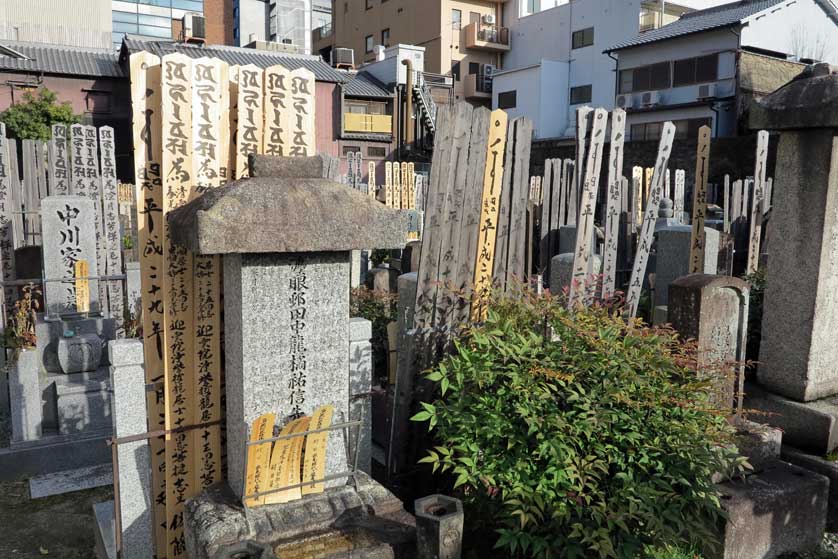 Tenshoji Cemetery, Teramachi, Kyoto
Tenshoji 天性寺
Tenshoji dates from 1577 with an image of Amida in the main hall. The grave of Tozaemon, the first Japanese to make brass, is in the cemetery behind the main buildings to your left, though it is not marked. The temple has a rather ramshackle air, perched as it is, right in the middle of the main commercial and shopping district of Kyoto.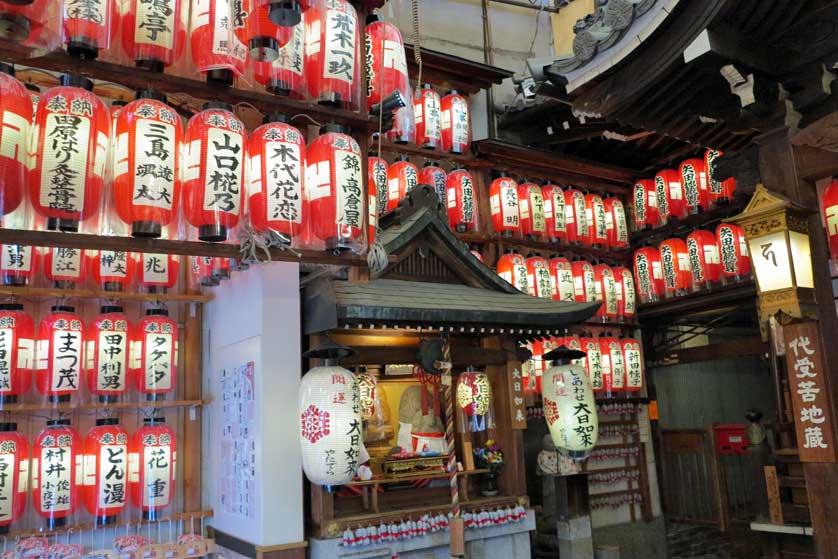 Yatadera, Teramachi, Kyoto
Yatadera 矢田寺
(Kongosan) Yatadera (aka Yata Jizo) is filled with bright red lanterns and is dedicated to Jizo, who rescues sinners from hell. Supplicants write ema votive plaques or buy small images of Jizo if they have done wrong to ward off a trip to hell in the afterlife. The temple is a sub-temple of Yata-dera in Nara and was founded during the Heian Period.
Kani Doraku かに道楽
Here at the corner of Sanjo and Teramachi is a small piazza-like space with a notice board containing the history of the intersection and some interesting shops. This space is often used for small events or commercial promotions. Kani Doraku is a chain of crab restaurants recognizable by the huge, mechanical crabs outside their stores. The notice board relates that after the 1590 reorganization of Teramachi by Hideyoshi, stores selling Buddhist statues, rosaries, tombstones, books, musical instruments, calligraphy brushes, dolls, folding fans and face powder began to spring up.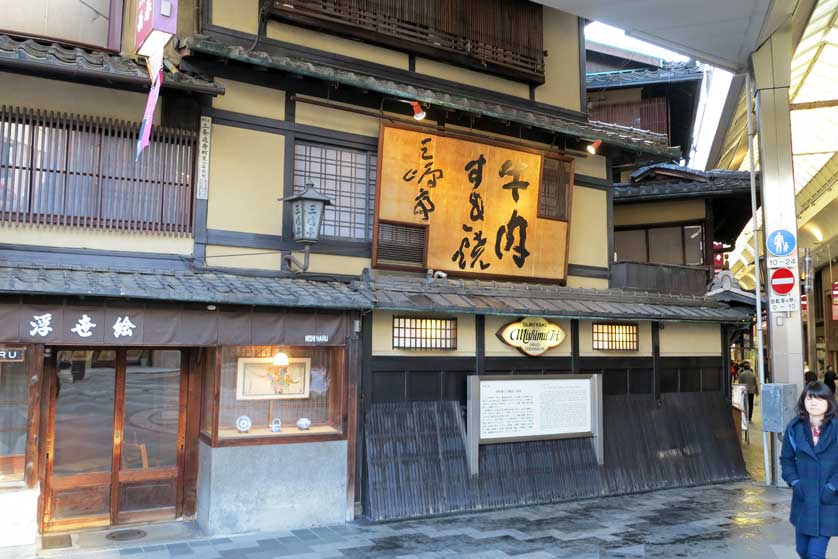 Mishimatei sukiyaki restaurant & butcher's shop, Teramachi, Kyoto
Mishimatei 三嶋亭
Mishimatei is a long-standing butcher's shop and sukiyaki beef restaurant in business on this spot since 1873.
The remaining places of interest on Judith Clancy's suggested walk are all on Shin Kyogoku, another covered arcade one block east of Teramachi. The street is reached via a small slope created by heavy stones that sank over time creating the incline. The stones were laid to allow access to Tenshoji when a pile of earth created during the construction of Sanjo Bridge obstructed the path to the temple.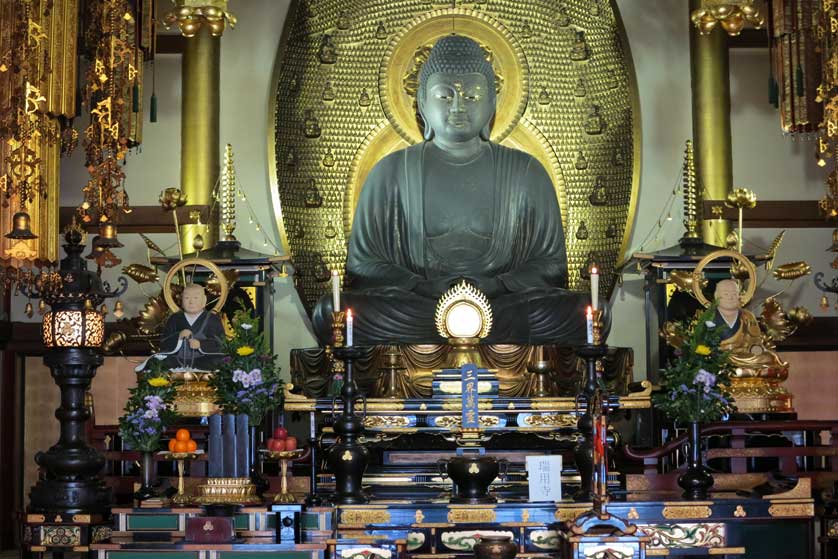 Seiganji Temple, Shin Kyogoku, Kyoto
Seiganji 誓願寺
Seiganji was founded in 667 by the Emperor Tenchi, according to the temple's notice board The modern concrete version is more recent, dating from 1964. There is an impressive image of the Amida Nyorai within. The Jodo-shu temple sells votive candles that supplicants can write their names and wishes on for the priests to bless. Seiganji Temple is associated with the performing arts, rakugo in particular, according to Clancy. Seiganji's devotees included the literary figures, Sei Shonagon (author of the Heian Period classic The Pillow Book) and Izumi Shikibu, and the temple has since had a particular appeal to women.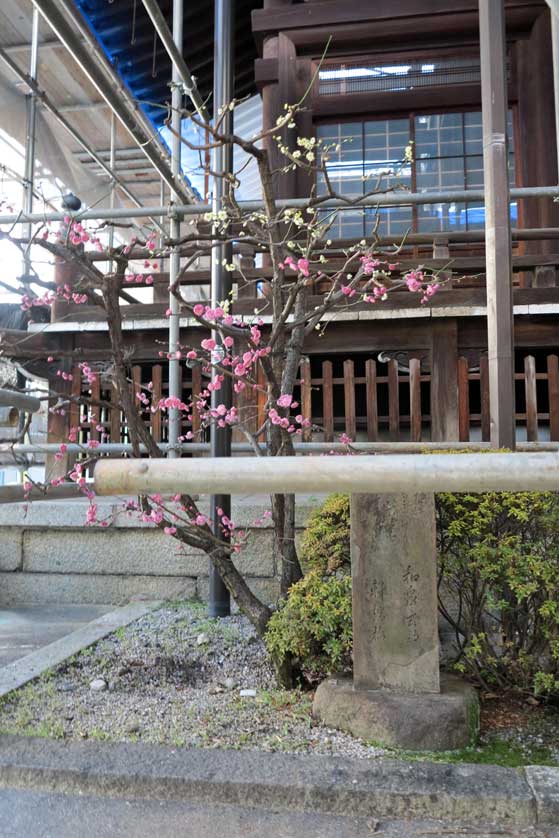 Plum tree and stone memorial to Izumi Shikibu, Seishin-in Temple, Shin Kyogoku, Kyoto
Seishin-in 誠心院
Indeed a few meters south of Seiganji's main gate is a cemetery and stone memorial to Izumi Shikibu, a great woman writer of the Heian Period, who wrote lasting poetry and had a difficult personal life. This is part of Seishin-in Temple. Another stone memorial to the poet, with one of her poems carved upon it, stands within the temple along with a plum tree planted in her honor. She was said to adore plum blossom.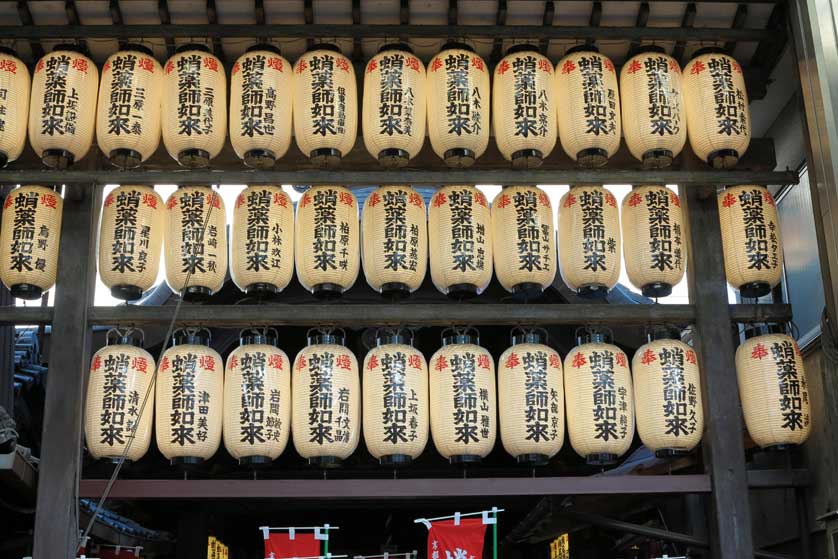 Lanterns at Tako Yakushido Temple, Shin Kyogoku, Kyoto
Tako Yakushido 蛸薬師堂
Tako Yakushido translates as "Octopus Healing Buddha Hall." The temple gets its unusual name from the story of a young monk who bought an octopus to cook for his ailing mother, who was chided for preparing to go against Buddhist precepts by taking the life of a living creature. Yakushi Nyorai, the Healing Buddha, knowing the young monk's intentions were pure, appeared to him, saying his thoughtful act alone was enough to cure his sick mother. The monk made an image of the Buddha and enshrined it in the temple in 1461.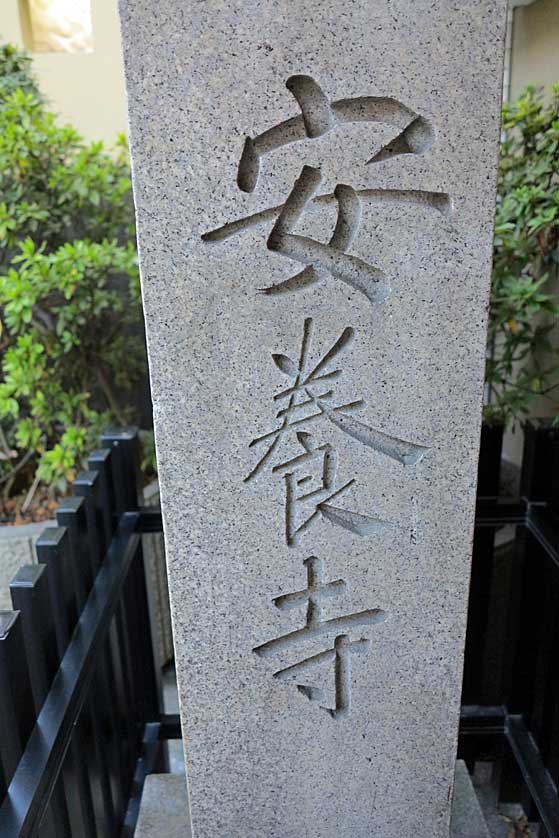 Anyoji Temple, Shin Kyogoku, Kyoto
Anyoji 安養寺
Anyoji Temple, founded in Nara in 1018, moved to Kyoto in 1110 and to its present location in 1580 by Hideyoshi. Its name comes from the sister, Anyo, of the founder Eshin. Another name for the small, Jodo-sect temple is Sakarengeji - meaning "upside-down lotus flower". The name comes from the principal image of the temple being placed on a pedestal showing upside-down lotus flowers. The story goes that the sculptors were unable to get the statue to stand on the base so they reversed it and succeeded. Another explanation is that at the time, Buddhism orthodoxy saw women as inferior beings unable to enter paradise, as the lotus pedestals in their minds were "upside down." Thus by deliberately reversing the pedestal the venerated Buddha is able to save women. Not surprisingly, the temple became popular with women and still is.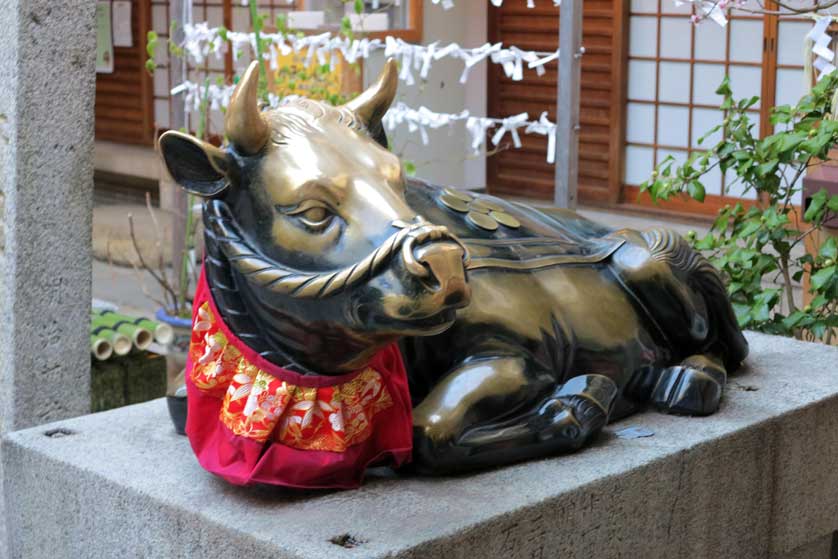 Bronze cow, Nishiki Tenmangu, Shin Kyogoku, Kyoto
Nishiki Tenmangu 錦天満宮
Nishiki Tenmangu is at the eastern end of the popular Nishiki Koji covered market, now thronged with foreign tourists sampling various Kyoto food products, green tea and sake. Like all Tenmangu shrines it is dedicated to the Heian era scholar Sugawara no Michizane (845-930). Also, like all Tenmangu shrines, it has a statue of an ox, here in bronze, which supplicants rub for relief from aches and pains. The Main Hall has two noted komainu guardian lion-dogs dating from the Kamakura Period (1185-1333) of Japanese history.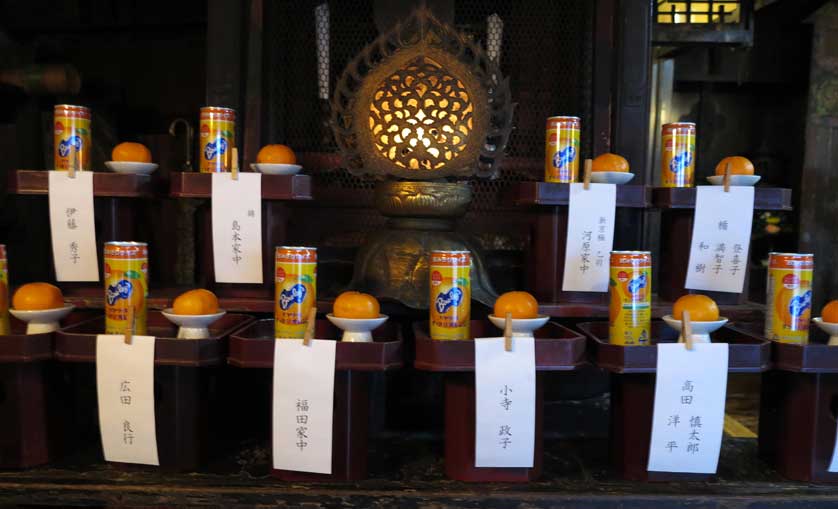 Somedono Jizo-in, Shin Kyogoku, Kyoto
Somedono Jizo-in 染殿地蔵
Somedono Jizo-in is on the west (opposite) side of Shin Kyogoku and is behind a long-standing chestnut and Japanese sweet shop on Shijo, Hayashi Manshodo, which itself dates from 1874 as a company. Somedono Jizo-in houses an image of Jizo, which is believed to ensure safe delivery for pregnant women. The legend is that Empress Aiko (829-900) prayed to the Jizo and was granted an easy birth of Emperor Seiwa (858-76).
Teramachi continues on south of Shijo and becomes Kyoto's main electronics area with cut-price electronics stores jostling for space with minor temples, art galleries and more traditional shops selling incense, religious accessories and kimono.
Accommodation near Teramachi
This area of Kyoto has a number of places to stay, both traditional ryokan (Japanese-style inns) and hotels, all within walking distance of Teramachi south of Oike Street and Kyoto's main shopping street, Kawaramachi Dori.
These include Hotel Grand Bach Kyoto, Kyoto Central Inn, the traditional Kinparo Guesthouse, Super Hotel Shijo Kawaramachi, Tabiya Hotel, capsule hotel nine hours Kyoto, Guest House Kyoto Gokomachi and Kyoto Royal Hotel and Spa, an upmarket 4-star establishment.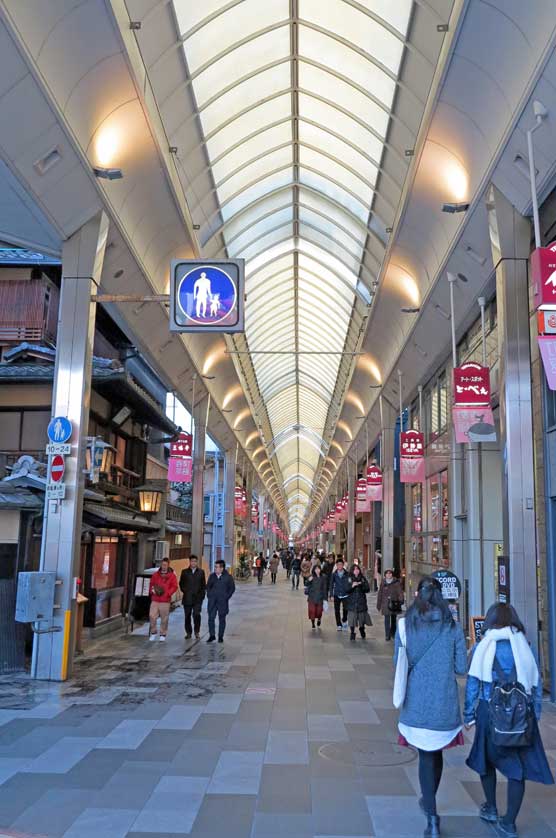 Teramachi shotengai (arcade), Kyoto
Access: Getting To Teramachi Shijo
From Kyoto Station take a Karasuma Line train on the Kyoto subway to Karasuma Station, which is also on the Hankyu Line, then walk east along Shijo Dori before you come to Teramachi and Shin Kyogoku.
Take any Kyoto city bus that goes along Shijo Street to Shijo Teramachi such as the #5, #11, #12, #32, #46, #201 or #207.
Teramachi Map
Walk south on Teramachi from Imadegawa in Kyoto to discover historic temples, shrines, stores and restaurants on Teramachi and and Shinkyogoku streets.
All the themes of the city