Kyoto Kanze Kaikan Noh Theater
京都観世会館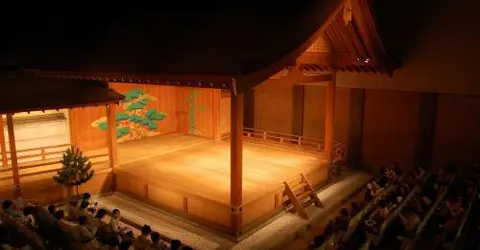 Noh return
Classical Japanese theater, registered in 2008 as an Intangible Cultural Heritage of Unesco, Noh is characterized by its extreme restraint.
A poetic moment unparalleled to see or discover, even if you do not master the language of Mishima. Dancing, singing, music, a mask, a story ... a sublime, artistic, and allusive ritual. When a theater is named after an illustrious house, in this case that of the Kanze family, founded by the father of playwright and theorist of Noh, Zeami (1363-1443), viewers can only welcome the chance to attend a play in this place.
Here, the stage meets the strict architectural rules of the genre that unites aesthetics and technique. Cedar wood floors, advancing into the audience, limited by four pillars supporting a roof similar to that of a sanctuary. And a bridge (hashigakari) that is a symbolic passage of the lead actor to the 'mirror room' backstage, beyond the temporal, to participate in incantatory magic like the hieratic of a dramatic story. Representations of Noh and Kyogen (literally "crazy words," a kind of comic interlude) occur mainly on weekends and holidays.
---
Address, timetable & access
All the themes of the city