Okubo Guide
Tokyo Area Guide: Okubo 大久保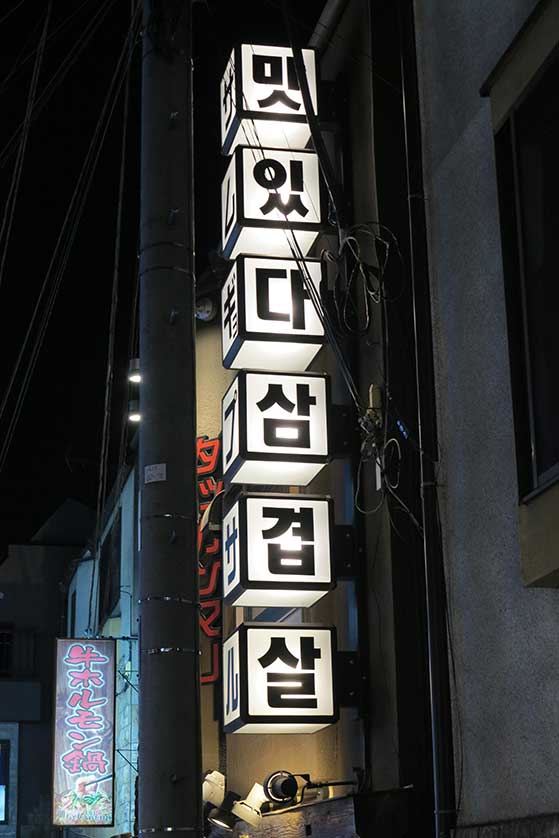 Korean restaurant on Okubo-dori Avenue
Okubo, an area in Shinjuku ward, is Tokyo's most famous Korean town, and is home to sizable Chinese, South-East Asian, and Indian communities, too.
The area loosely known as Okubo area occupies two ward sub-districts: Okubo and Hyakunincho.
From its pre-war status as a nest of opulence (much like present day Azabu), after the Pacific War, it emerged from the ruins as home to the Korean community created by Japan's colonization of Korea.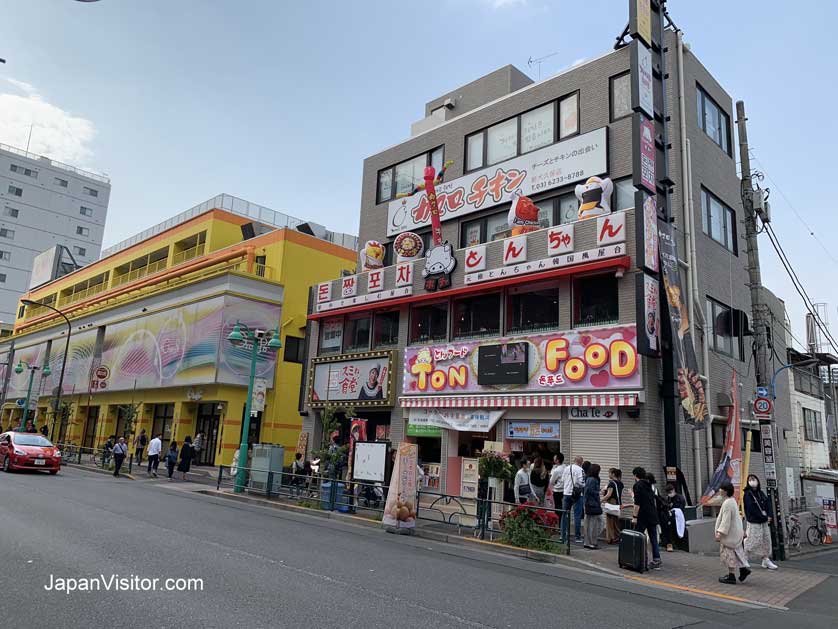 Colorful, lively Okubo, Tokyo
The main street, Okubo-dori Avenue, running through the Hyakunincho sub-district, is colorfully lined with Korean and, to a lesser extent, Chinese, shops, restaurants, and grocers. Bibimba, yakiniku (i.e. Korean barbecue), kimchi, hangwa, pa jun, soju - it's all there in Okubo, as well as all you might need for Korean cooking.
The Koreans and Chinese have been joined by other communities from Asia including Vietnamese, Indonesians, Thais and Malaysians so Okubo is the area to come to find authentic South East Asian cuisine, Asian grocery stores, halal shops and some excellent restaurants.
Christian churches are plentiful in Okubo due to the large number of Korean Christians, who actually attend every Sunday rather than just have their wedding there.
The biggest temple in Okubo is Zenryuji (The Temple of the Golden Dragon; 全龍寺), just 200m east from Shin-Okubo Station on Okubo-dori Avenue. Its entrance is traditionally picturesque, but the bland contemporary construction of the temple itself makes it hardly worth going in.
Kaichuinari Shrine, is a small shrine near Shine Okubo Station, that dates from 1533. It enshrines the local deity of Okubo and has associations with a company of Edo period musket men who were stationed nearby.
The lower rents for land in Okubo also means it has many love hotels, some of them decidedly down-market.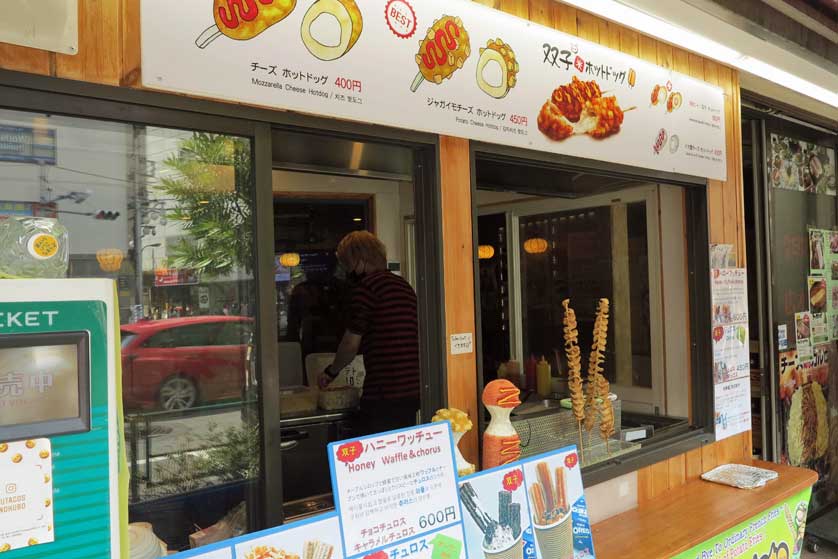 Weekends and public holidays attract a youthful crowd to Okubo to try its fashionable Korean street food especially Korean Hotdogs and post the result on Instagram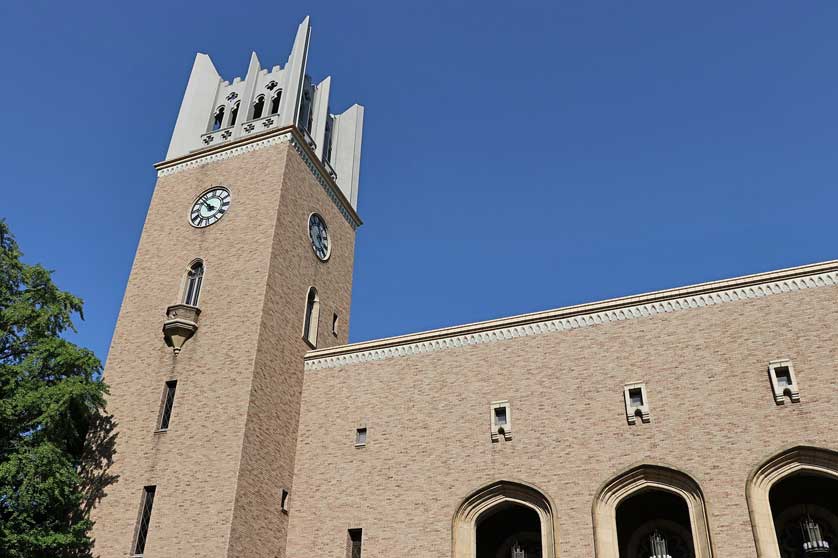 Waseda University, Okubo, Tokyo
Waseda University
Half a kilometer north of Okubo-dori Avenue, accessible by Meiji-dori Avenue, which intersects it, is the famous Waseda University, where the famous Japanophile Lafcadio Hearn held his last teaching post.
A statue of Lafcadio Hearn (aka Koizumi Yakumo) stands in a small park (Koizumi Yakumo Memorial Park) in Okubo, just off Okubo-dori. The pleasant urban green space has Greek-style stone columns, small fountains and pretty flower beds. Even the public toilet in the park is cleverly done in a vaguely Greek fashion with a tiled roof.
Nearby is also a plaque marking the house where Hearn died in 1904.
Waseda University was founded by the Meiji era reformer and prime minister Okuma Shigenobu in 1882. Waseda's campus contains the fine Okuma Garden, the grounds of the daimyo Matsudaira Sanuki's former mansion, which were redesigned by Okuma and donated to the university on his death. The Aizu Museum on campus can also be visited as well as the Tsubouchi Memorial Theatre Museum (Enpaku), dedicated to the history of drama and named after Tsubouchi Shoyo (1859-1935), a writer, dramatist and translator.
Just east of Waseda University campus at the intersection of Waseda-dori and Natsumezaka is a stone monument marking the birthplace of the famous Japanese author, Soseki Natsume (1867-1916), whose face featured on the 1000 yen bill between 1984 and 2004.
There are a number of Japanese language schools in the Okubo area which attract mainly Asian students, which adds to the area's cosmopolitan feel.
The Korea Museum (admission 400 yen; Wednesday-Sunday noon - 5 pm) is a small museum dedicated to the often troubled history of Koreans in Japan and their struggle for independence from the Japanese in the 20th century. There are wall panels and photographs explaining the background and a volunteer is usually on hand to give an explanation (in Japanese). The museum is located on an upper floor of a building on the north side of the road between Seibu Shinjuku Station and Higashi-Shinjuku Station.
Korea Museum 高麗博物館
1-12-1 Okubo, Shinjuku-ku, Tokyo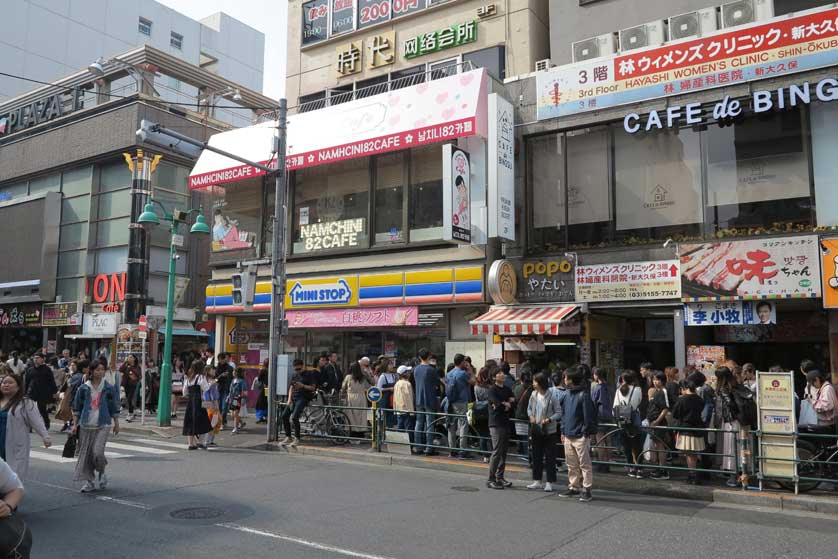 Young people queue for the latest Korean street food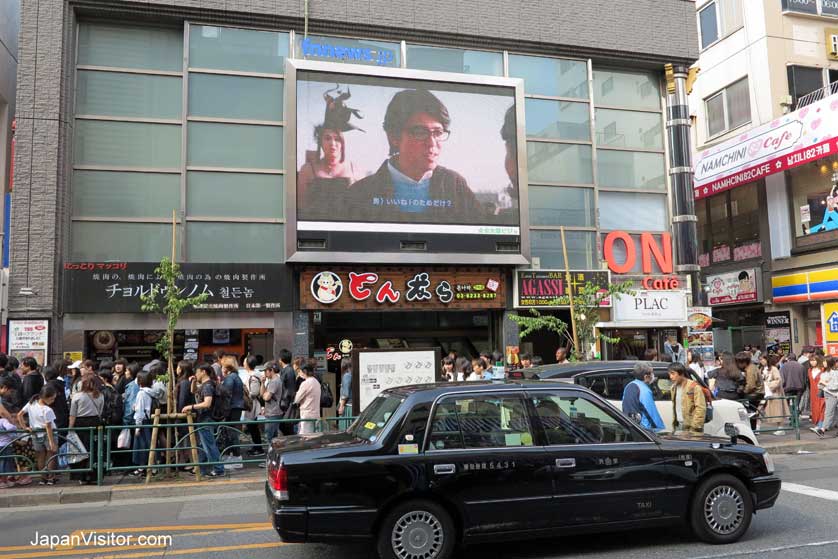 The streets around Shin-Okubo Station
Accommodation in Okubo
Close to Shinjuku, Okubo has a good number of places to stay. The Rihga Royal Hotel Tokyo is four star and convenient for Waseda University. It will get busy in February as anxious parents accompany their children to the entrance test for Waseda.
The Hotel Chinzanso Tokyo is a five star hotel close by with marble en-suite bathroom, flat-screen satellite TV and hi-fi audio system in the spacious rooms.
More budget accommodation can be found near JR Okubo Station including the two star Royal Hotel Shinokubo, the two star Tokyo Plaza Hotel Shinjuku and the apartments at Hundred Stay Tokyo Shinjuku.
The hotels of Shinjuku are just a short walk from Okubo, though prices should be lower in the Okubo area itself.
See here for a full listing of hotels and apartments in Shinjuku Ward (Shinjuku-ku).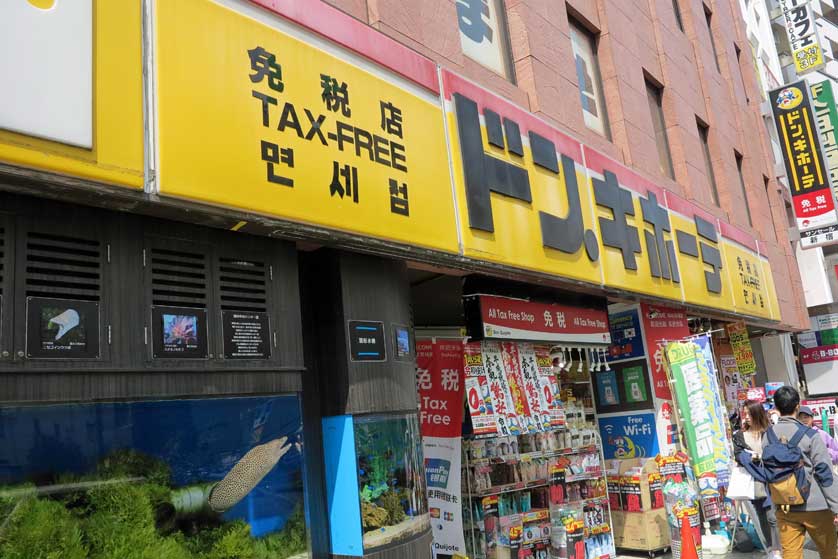 Weekends and public holidays attract a youthful crowd to Okubo to try its fashionable Korean street food especially Korean Hotdogs and post the result on Instagram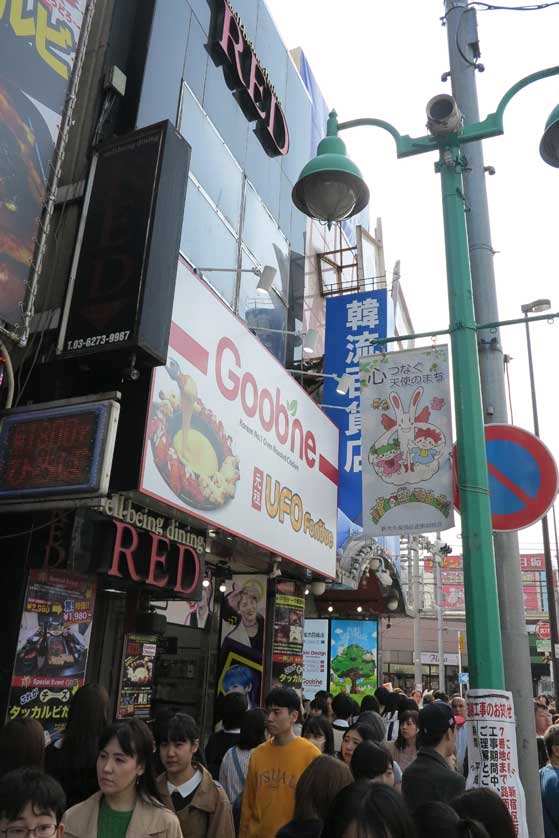 Okubo attracts a mainly younger crowd on weekends
Access - Getting to Okubo
Two train lines serve Okubo: the JR Yamanote Line, with Shin-Okubo Station, and the Chuo-Sobu Line, with Okubo Station - both only one stop away from Shinjuku station, and only 200 meters from each other.
Seibu-Shinjuku Station and Higashi-Shinjuku Station are also both nearby to the area.
Chuo-Sobu Line train at Okubo Station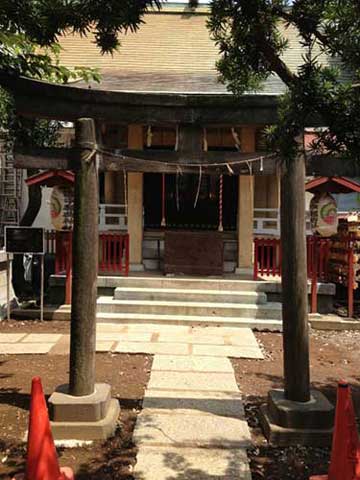 Kaichuinari Shrine, Okubo, Tokyo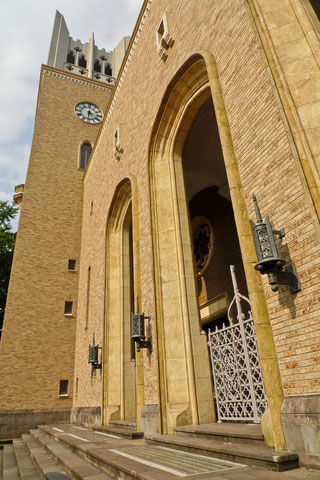 The Okuma Auditorium clock tower is a symbol of Waseda University
For a full listing of Tokyo Museums & Art Galleries click here
Images of Okubo, Tokyo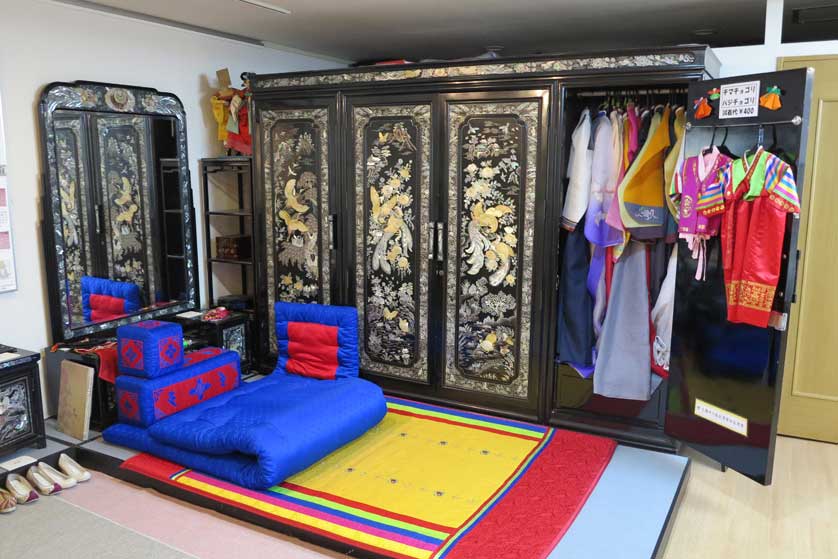 Traditional Korean hanbok clothing for kids to try on at the Korea Museum, Okubo, Tokyo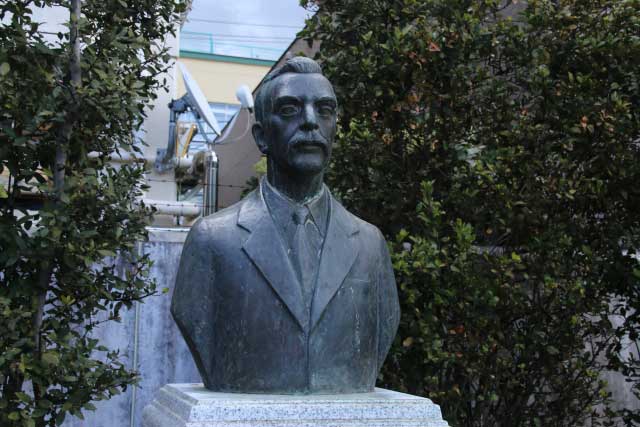 Statue of Lafcadio Hearn, Okubo, Tokyo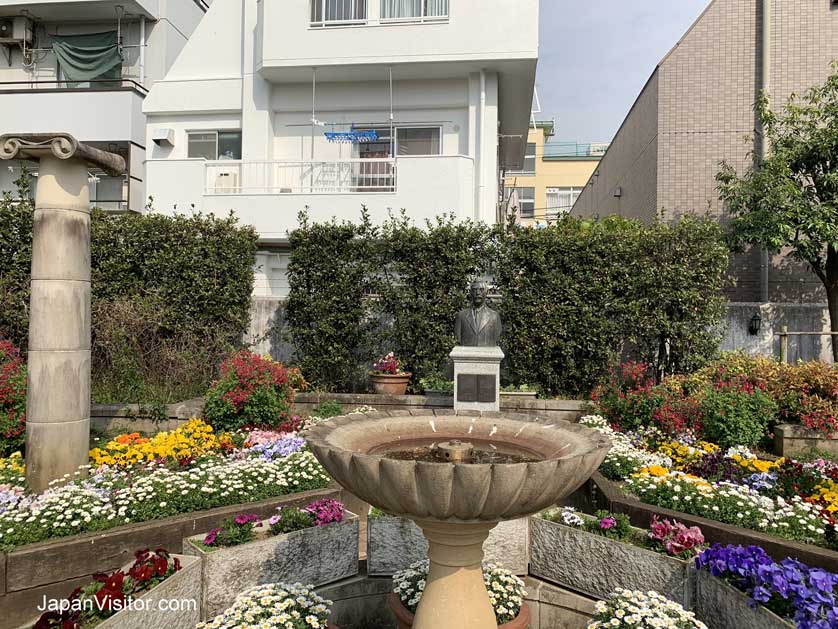 Lafcadio Hearn in his "Greek" style garden, Okubo, Tokyo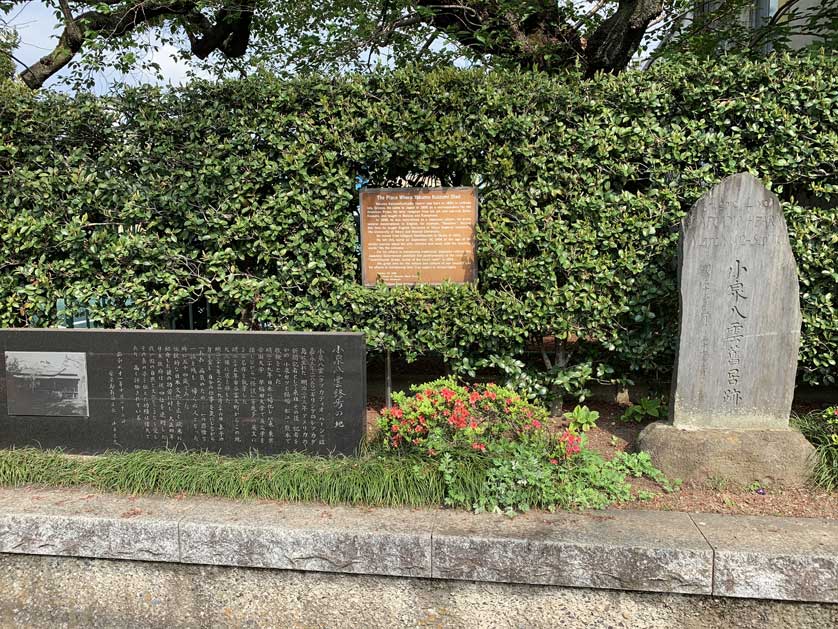 Memorial to Lafcadio Hearn who lived and died in a house on this spot. Fittingly, the space is now a school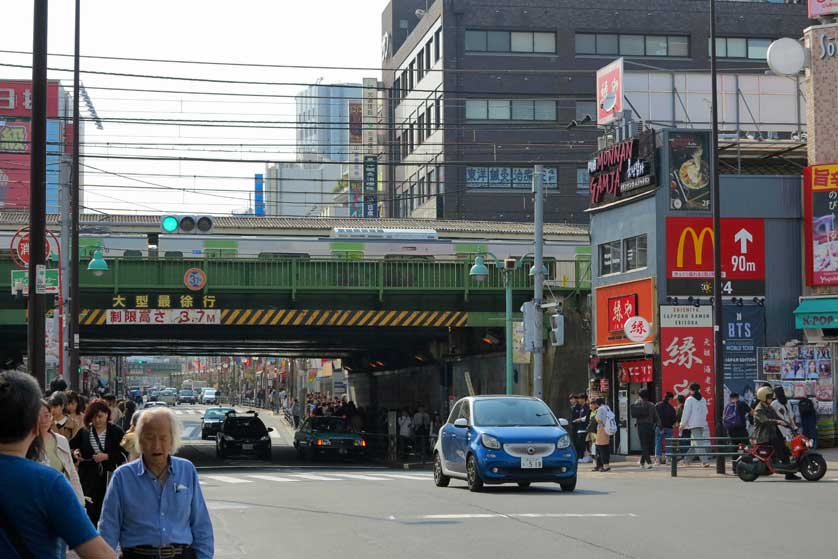 Shin-Okubo Station area
Okubo Festival
Okubo Map
Okubo: read a guide to Okubo. Okubo is home to Tokyo's vibrant Korean community. Okubo has a number of Korean stores and restaurants.
All the themes of the city