Tokyo Sightseeing
Tokyo Area Guide: Things to Do In Tokyo 東京
Tokyo Attractions
Tokyo Districts
Tokyo Shopping
Tokyo Sightseeing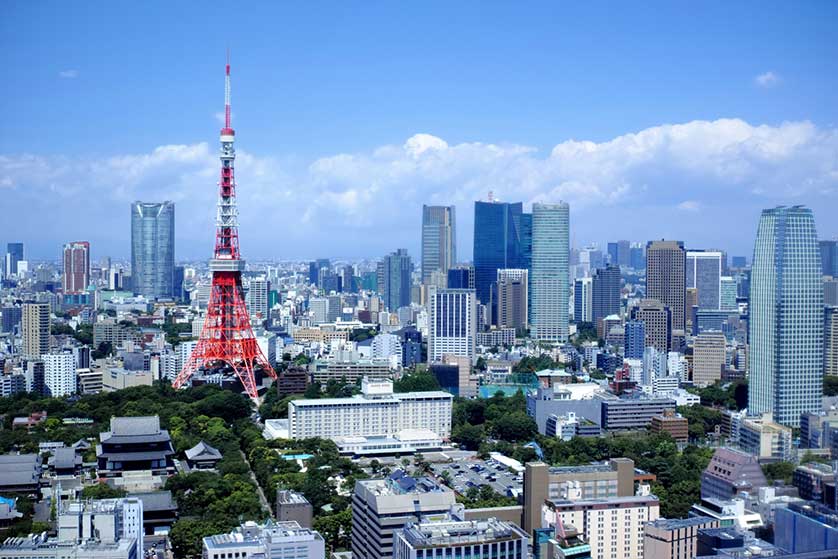 Tokyo is the point of entry for most visitors and business travelers to Japan and one of the world's most fascinating cities.
Tokyo city dates from around 1600 when the Shogun Tokugawa Ieyasu, chose Edo, then a small fishing village near the mouth of the Sumida River, as the shogunate's new capital.
Edo grew to become the world's biggest city by the 1600's, with over a million people.
Edo became Tokyo - Japan's capital - from 1868 after the Meiji Restoration and the move of the nation's capital from Kyoto.
Tokyo is now an extraordinarily vibrant, exciting and fashionable modern metropolis, which still manages to reveal glimpses of its traditional past.
Divided into a series of smaller 'cities' efficiently connected by public transport, Tokyo is the center for Japanese architecture, art, business, fashion, food, music, politics - and virtually everything else.
By night, the neon-lit city offers the best entertainment in Japan from superb restaurants, bars and clubs to traditional performances of Japanese theater: kabuki, kyogen and noh. There is something for every conceivable taste in this great city. Enjoy!
Tokyo: Areas of Interest
Shinjuku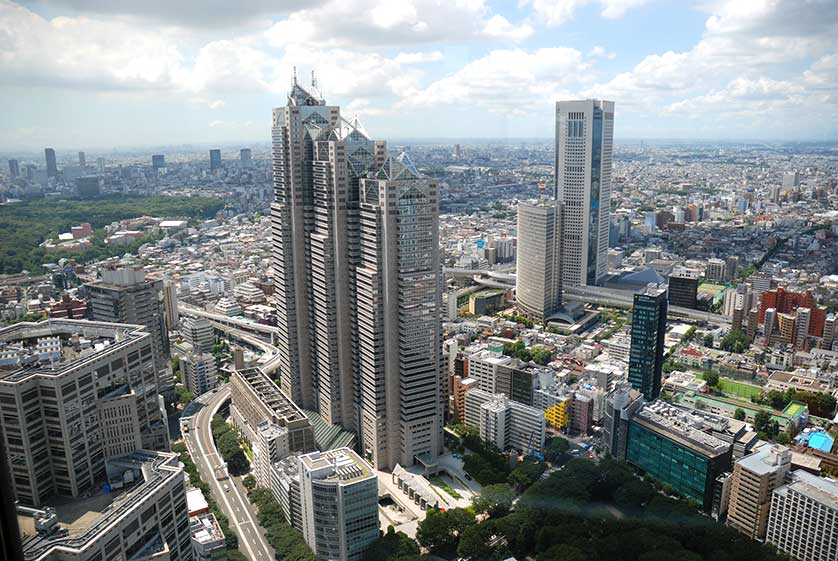 Shinjuku Skyscrapers, Tokyo
Shinjuku, on the western edge - at roughly '9 o'clock' - of the Yamanote Line, is truly a city unto itself. It is divided into Higashi (east) and Nishi (west) Shinjuku by the train lines that run through Shinjuku Station.
Nishi Shinjuku in particular exudes wealth and power with its towering skyscrapers. One of the most eye-catching is Kenzo Tange's inspired citadel: Tokyo's city hall building, the 'Tocho', daily home to 13,000 bureaucrats. Nearby is the Hyatt Park Hotel (venue for the film 'Lost in Translation') occupying another soaring Kenzo Tange construction: the Shinjuku Park Tower.
Other notable buildings are the tapered and honeycombed Mode Gakuen building (also by Tange), the 54-storey Tokyo Opera City with its hi-tech NTT Intercommunication Center which features futuristic exhibitions and events.
Higashi Shinjuku, on the other hand, retains the district's original downtown shitamachi roots. This atmosphere is summed up in Shinjuku's three best-known entertainment districts: Kabukicho, Shinjuku Ni-chome, and the odd little enclave known as the 'Golden Gai.'
Kabukicho is a red-light district behind and just east of the Studio Alta building with its huge TV screen at which crowds rendezvous. Kabukicho is the setting for much of Natsuo Kirino's novel Out. Though yakuza are out and about here, it is safe enough even at night, and plenty enough restaurants and bars that cater to every taste to keep you from having to wander for too long. Kabukicho is home to the famous Robot Restaurant with its stunning show blending Japanese tradition and futuristic science fiction. Not far from Kabukicho is Shinjuku Ni-chome, which is the heart of gay Tokyo.
'Golden Gai' is an area that has been slated for 'urban renewal' (aka, destruction) ever since the end of the War, and its continued existence seems more accidental than anything else. This ground-level warren of tiny bars has more than a bit of that 'Blue Velvet' feel: will you be rubbing elbows with a philosopher or a hustler? It is further distinguished by being perhaps the only area in Tokyo where all the buildings are more than 10 years old.
During the day, Shinjuku's massive department stores, from Shinjuku station eastwards, are a culture unto themselves. Their upper floors are home to some of Tokyo's finest art exhibitions, the basements are a grocery/delicatessen/confectionery cornucopia - full of free munchies (samples are put out to be eaten, not stared at: foodies, dig in!), and the service is world class at Seibu, Takashimaya, and Isetan.
Need a break from Shinjuku's commercial crash and bang? Beautiful wide Shinjuku Gyoen Park is mere minutes walk away.
Read more about Shinjuku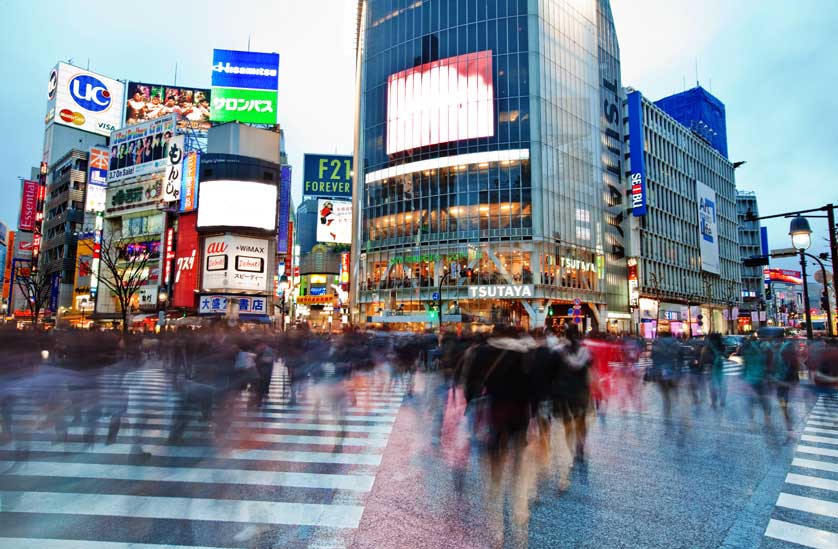 The neon skyscrapers of Shinjuku offer Tokyo's most vibrant night views
Shibuya

The center of Japanese youth culture, Shibuya, is best experienced in small doses. Although there are department stores that draw the more matronly set, it is teenagers who dominate the scene. If you need to know what's hip, then this is the place for you.
In addition to youth culture, the NHK Museum is a fun day out. Also of note is Bunkamura. Bunkamura (literally, 'culture village') is a department store/art gallery/cinema complex ten minutes walk from Shibuya Station. It has frequent exhibitions and is one of the venues for the Tokyo Film Festival held every fall. "Love Hotel Hill" is a strip of short-stay hotels - "Love Hotels" located near the Tokyu department store. Shibuya's other main landmark is a statue of Hachiko the faithful dog of the 1920's and 1930's, who waited for his master, a Tokyo university professor, long after the professor had passed away. Hachiko's remains are preserved in the National Museum of Nature and Science and his statue remains a popular rendezvous at Shibuya Station to this day.
Shibuya Station connects with the following lines: Yamanote Line, Saikyo Line, Ginza Subway Line, Hanzomon Subway Line and the Keio Inokashira Line.
Daikanyama
Daikanyama is a short train ride (one local stop) from Shibuya on the Toyoko Line and is an elegant counterpoint to Shibuya's noise and non-stop consumerism. High-priced boutiques, the best cafe culture in Japan, and Fumihiko Maki's Hillside Terrace make Daikanyama one of Tokyo's hippest neighborhoods.
Aoyama
Aoyama is a larger, less sheltered, version of Daikanyama. Tokyo's best jazz clubs (the Blue Note, etc.), high-end shopping, and beautiful people can all be found on or near Aoyama-dori boulevard (Route 246). Fumihiko Maki's Spiral Building is a multi-purpose space worth dropping in on. Aoyama is where novelist Haruki Murakami calls home, and where many of Japan's most popular writers pen their works.
Feel like a foot massage, aroma therapy? Aoyama is a new age haven, full of health clubs, spas and massage centers, as well as cafes, restaurants and specialty cuisine. The place to be if you feel like being pampered. Just stroll along Aoyama-dori boulevard (Route 246).
Roppongi

Roppongi is one of Tokyo's livelier scenes, full of 'beautiful people', Roppongi is still the place that Japanese and foreign celebrities go for fun. US servicemen (and women) fill certain bars, though other nationals dominate the street scene. Located on the Hibiya Subway Line and Oedo Subway Line, Roppongi contains 69 of the 127 embassies in Japan as well as a lot of extremely expensive housing monopolized by people "in finance".
The night time dazzle all happens around Roppongi Intersection, right near the two Roppongi subway stations (Hibiya Subway Line and Oedo Subway Line). The next station on the Oedo Subway Line, Azabu-juuban (exit 7), and Azabu-juuban on the Namboku subway line (exit 4), is the center of Azabu-juuban Shopping Town. This is where you can savor the sights, sounds and smells of the Tokyo of 300 years ago. Typical of the area are its taiyaki ('carp bake') shops selling carp-shaped confectioneries, soba noodle restaurants, antique shops, and rakugo performances. Ghosts of Roppongi past are neatly documented in Robert Whiting's Tokyo Underworld.
A little south-west of Azabu-juuban is Arisugawa-no-miya Memorial Park, containing the Tokyo Metropolitan Central Library. The park was the former preserve of feudal lords and nobles, and features beautiful woods for strolling through, placid streams, and many wild birds.
Walking east of Roppongi along the route of the Hibiya Subway Line brings you to the 333m high Tokyo Tower - one of the city's major landmarks. The observation deck affords spectacular views of Tokyo below.
Roppongi Hills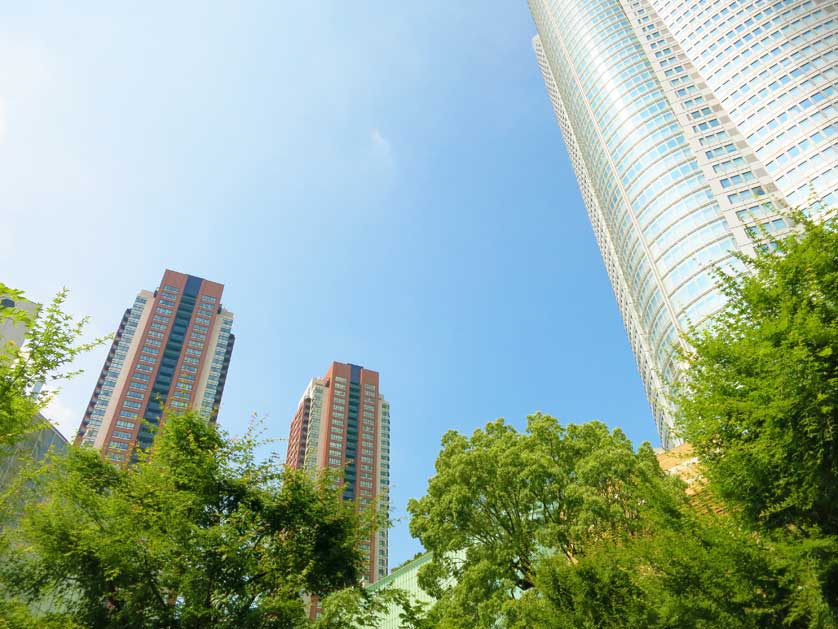 Roppongi Hills is the Roppongi area's defining "miracle," that was a full 17 years in the making. In the midst of what was a depressed real estate market - in which land prices were continuing their downward spiral some 15 years after the bursting of the bubble economy - Japan's leading developer Minoru Mori opened up his Roppongi Hills complex in the summer of 2003.
The 11.6 hectare mega-plex of luxury is made up of boutiques, a Virgin Cinema complex, restaurants, apartments, the Mori Art Museum, a hotel, a major TV studio, an outdoor amphitheater, parks, and more. The centerpiece of this is a 54-story office tower designed by the New York firm Kohn Fox Pedersen. Like Mori's previous projects - LaForet Harajuku (1978) and Ark Hills (1986) - this is one very big and sophisticated statement.
Roppongi Hills is sprawling and somewhat unpredictable in its design, encouraging wandering and exploration: a huge retail pot of gold that has succeeded in helping bring the middle class back into central Tokyo to live and play.
Access for Roppongi Hills from:
Roppongi Station on the Hibiya Subway Line, Exit 1C (3 mins)
Roppongi Station on the Oedo Subway Line, Exit 3 (6 mins)
Azabu Juban Station on the on the Oedo Subway Line, Exit 7 (8 mins)
Azabu Juban Station on the Namboku Subway Line, Exit 4 (11 mins)
Nogizaka Station on the Chiyoda Subway Line, Exit 5 (10 mins)
Tokyo Midtown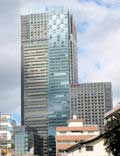 Tokyo Midtown is the 2007 challenge to Roppongi Hills' dominance of the Roppongi area.
Situated on Gaien-higashi-dori Boulevard, Tokyo Midtown is a six-building complex on ten hectares of land, dominated by the massive Tokyo Midtown Tower.
Outside the main Tokyo Midtown buildings in the garden space adjacent to the pleasant Hinokicho-koen is the innovative 21_21 Design Sight art gallery and event space designed by fashion guru Issey Miyake and architect Tadao Ando.
National Art Center Tokyo

Roppongi's latest cultural value added happened in January 2007 with the opening of the National Art Center, Tokyo. Just half a kilometer NNW of Roppongi Towers and slightly west of Tokyo Midtown, the National Art Center Tokyo is a massive, highly modern space of non-permanent exhibitions. Most easily accessible from exit 6 of Nogizaka station on the Chiyoda Subway Line.
Harajuku

Green and pleasant Harajuku is Tokyo's most established center of street fashion. While other areas rival it in terms of hip, Harajuku still reigns when it comes to streetwise and cutting edge. Harajuku is flanked by Jingu Gaien/Yoyogi Park to the east and the elegant Aoyama district to the west.
The tree-lined Omotesando boulevard (originally, Japan's first ever boulevard) starts from the gates of the Meiji Jingu shrine. It extends west from just south of JR Harajuku station (or directly east from Jingu-mae subway station on the Chiyoda Subway Line), bisecting Meiji-dori avenue and then Aoyama-dori avenue.
Harajuku comes in two distinct flavors: trash and class.
Ginza

The shopping and stomping grounds of the wealthy since the early part of the 1900's, Ginza has lost a little of its luster as the locus of the city has moved west towards Shinjuku, Shibuya, and beyond. However it is still home to high-end stores catering to the Gold Card-carrying crowd including the multi-storey Matsuzakaya and Mitsukoshi department stores.
On Sundays, Ginza Dori is closed to traffic. Mikimoto, Louis Vuitton, Apple, Sony, and many more big brands have mega-stores here along with branches of international and Japanese banks and a number of high-end hotels. The Ginza subway station consists of three underground floors with numerous shopping outlets and is a popular meeting place. Ginza is accessible on the Marunouchi Subway Line, Hibiya Subway Line, and Ginza Subway Line.
Odaiba

Odaiba (or Daiba), built on reclaimed land in Tokyo Bay, is a new high-tech shopping, restaurant and entertainment area in south-west Tokyo. You can catch Japanese TV dramas in the making at the Fuji TV studio, meander through Venus Fort: a "theme park for ladies" built in the style of an eighteenth century European city, or pay a visit to the Maritime Museum, housed in a reproduction of a cruise ship, and there's a great view of Tokyo Tower and the Rainbow Bridge. Also in Odaiba is Japan's largest conference and exhibition center - Tokyo Big Sight.
Odaiba is popular with the young and dating couples. Access is by the Rinkai Line to Tokyo Teleport Station or by the Yurikamome Line (monorail) to Daiba Station, across Rainbow Bridge from Shinbashi Station. There are buses from or a ferry from Hinode Sanbashi.

Akihabara is the undisputed electronics and camera capital of the universe. It has the absolute latest in everything - including manga and anime DVDs. Come see today what will be on the shelves in London and New York in a year or two and keep an eye out for the many tax-free shops in the area. Get off the Yamanote Line at Akihabara Station. If you are buying, bargain!
However there is more to Akihabara than just bargaining and walking off with the latest. Akihabara is also the mecca of the weird and wonderful otaku and cosplay subculture.
Toyosu Market

Toyosu Market replaced the former Tsukiji Fish Market in October 2018 as Japan's busiest foodstuffs wholesale market. Toyosu Market is the most famous of the eleven locations operated by the Tokyo Metropolitan Central Wholesale Market and is a massive operation occupying over 40 hectares on the artificial island of Toyosu, in Tokyo Bay. While actually not exclusively a fish market (it also deals in fruit, vegetables and meat) it is most famous for its fish and other marine products.
Toyosu is the largest fish market in the world and an estimated 17% of the world's total fish catch passes through its gates. The frantic action begins around 5am and is winding down by mid morning.
The tuna auction, which starts before 6am, is the main attraction for curious onlookers, who also have the chance to sample some of the freshest sushi available anywhere in Japan in some of the restaurants on the premises.
Across the road from the now closed former Tsukiji Market, near Ginza, is the impressive Indian-style Tsukiji Honganji Temple. The temple is across the road from Tsukiji subway station is worth a look for its pre-war antiqueness, its vast incense-laden cathedral-like interior and carved golden altar. You are more than likely to see a ceremony taking place before the grand altar if you stop in.
Caretta Shiodome

The second of five Jon Jerde projects in Japan, Caretta Shiodome is an office complex/mall that encourages strolling and people-watching. The 51-storey skyscraper's office space is mainly taken up by the advertising giant Dentsu, and houses a free advertising museum displaying over 135,000 Dentsu advertisements going back over 100 years to the Meiji period.
The area was the site of the first Tokyo railway station, and there is a replica of the original building within the complex as well as shops, cafes, and restaurants. In 2003, Caretta Shiodome attracted 10 million visitors.
A short walk from Shiodome Station on the Oedo Subway Line and Yurikamome Line, or easy access from nearby Shimbashi Station.
Imperial Palace
The Japanese Imperial Palace is located in central Tokyo on a massive plot of land (which at the height of the Japanese economic bubble in the late 1980's some went as far as to estimate was worth the market value of all of the real estate of the state of California).
The Imperial Palace began life as Edo castle, the seat of the ruling Shogunate. When the Shogunate was overthrown, in 1868, the Emperor and capital of Japan were relocated from Kyoto to Tokyo. The castle was turned into the Emperor's residence that year and officially named "Kyujo (the palace castle)" from 1888 to 1948. Since then it has been called "Kokyo", or the Imperial Palace.
The Palace itself consists of the Imperial Residence where the Emperor and Empress live with Princess Sayako; the Fukiage Omiya Palace, the former residence of Emperor Showa and Empress Kojun; the Imperial Palace, where various official functions take place; the Imperial Household Agency buildings; Momijiyama Imperial Cocoonery; the Imperial Concert Hall; and the East Gardens of the Imperial Palace.
While access to the inner grounds is very restricted, you can however, get very close by crossing Nijubashi, the two bridges that act as an entrance to the grounds between the picturesque moat that surrounds it and the inner walls - usually full of elderly amateur artists painting the scenery. Access further inside is limited to only two days of the year. On January 2 (New Year's Greeting) and December 23 (the Emperor's birthday), visitors are allowed to enter the inner palace grounds and witness the members of the Royal Family, who are arrayed and waving behind a bullet-proof window on a balcony.
There are guided tours in Japanese throughout the year. As with any Imperial site, though, tours must be reserved in advance at the Imperial Household Agency (Kunaicho).
Imperial Palace is a 10-minute walk from Tokyo Station.
Fukagawa & Morishita

Fukagawa began life as a merchant district in the old city of Edo, and much of what is worth visiting today harks back to those merchant beginnings. The present mood of the area is reflected in its surroundings: spacious, clean, subdued in color and somewhat old, but with very few rough edges.
For the visitor its main draw is its exquisite Kiyosumi Teien Gardens, the reconstructed Edo era village in the Fukagawa Edo Museum, parks, a myriad of beautiful temples, its links with the haiku poet Basho, and its proximity to the Museum of Contemporary Art Tokyo.
Read more about Fukagawa & Morishita.
Ryogoku

Ryogoku is synonymous with sumo, and has been for almost the past 300 years. Home to the Ryogoku Kokugikan (Ryogoku National Sports Stadium), three of Japan's six annual sumo championships take place here at the Tokyo-basho. Many sumo stables are situated here, many of which can even be visited by the tourist.
Culinary-wise the area is also renowned for its sumo connections with hearty chanko-nabe, the traditional dish of the sumo-ka.
However, as much as sumo flavors the area, there is more to Ryogoku than just the national sport. It is also home to the beautiful and history-laden Eko-in Temple, dedicated to the souls of those who died without anyone to mourn them; to the elegant Kyu-Iwasaki Teien Gardens, and the must-see Edo-Tokyo Museum.
Tokyo Station/Nihonbashi Area Shopping: Coredo Nihonbashi
In addition to the Bridgestone Museum in Tokyo Station, the recently opened Coredo Nihonbashi shopping establishment is luring both commuters and shoppers into and beyond Tokyo Station. Coredo Nihonbashi is located in nearby Nihonbashi, and it has forced other area retailers to spruce up in an attempt to stave off new competition. Coredo Nihonbashi - a twenty-story building that stands on the site of the former Tokyu Department store - also houses Merrill Lynch offices and Waseda University's Nihonbashi campus. The opening has resulted in the neighboring Takashimaya and Mitsukoshi department stores having to refurbish their Nihonbashi branches.
Tokyo Station/Nihonbashi Area Shopping: Marunouchi Oazo
From the Esperanto word for "oasis," the recently opened Oazo complex comprises four new buildings and one existing one. It was built on the 24,000 square meter site that was the site of the headquarters of the now defunct Japan National Railways (now privatized as 'JR'). The main tenant is Maruzen Company, one of Japan's major book retailers. There is also the Marunouchi Hotel. Oazo is located just north of Tokyo Station.
Tokyo Tower

A red and white web of sky-high steel by day, a breathtaking beacon of lights by night, Tokyo Tower has traditionally been the most prominent and distinctive feature of Tokyo's city scape. Tokyo Tower is situated near the city's port in the elegant Minato (i.e. 'Harbor') ward of the city, and is located on the edge of Shiba Park, one of Japan's oldest.
Tokyo Tower was built in 1958 as a TV and FM radio broadcasting tower. It serves the whole of the Kanto region (i.e. Tokyo and surrounding prefectures) in that role and in 2003 began transmitting digital signals as well.
At 333 meters (1093 feet) it is 13 meters (43 feet) higher than the Eiffel Tower, but thanks to modern engineering technology it is 43% lighter in weight.
Being the Tokyo's tallest structure makes Tokyo Tower the prime spot from which to view the metropolis.
National Diet Building

The German-influenced three-storey National Diet Building on Kasumigaseki Hill is Japan's parliament and center of government and a well-known Tokyo landmark. The 65.5m tall reinforced concrete and granite structure was completed in 1936 after 18 years of construction work. All the building materials including the interior marble are locally-sourced.
The front of the building is approached from the east. Facing it, the south wing (to your right) contains the House of Councillors and the north wing (to your left) is the House of Representatives.
Free guided tours of the House of Councillors (about 60 minutes long) are available to the casual tourist. (A tour of the House of Representatives requires an invitation from a member of the House.)
House of Councillors: Mon-Fri (except national holidays) 8am-5pm; Tel: (03) 5521 7445 (Reception, House Police Department). (Tours may be suspended when the houses are in session.)
Access to the House of Councillors
For a tour, approach the Diet complex from behind, i.e. from the west. Coming from Nagata-cho station (Exit 1), the tour reception building is just to the right of the Annex of the House of Councillors. Look for the "Tours of the House of Councillors: Entrance" sign. Just across the road from Nagata-cho Station (Yurakucho Subway Line).
BEWARE: there are no less than three different "Nagata-cho" stations, all within 5 minutes walk of each other:
Nagata-cho station, Yurakucho subway line
Nagata-cho station, Hanzomon subway line
Nagata-cho station, Namboku subway line
However, the exit numbers are shared by all three stations. They are not duplicated. Read more about Nagata-cho.
Koenji
Koenji in Tokyo's Suginami ward is only four stops west of Shinjuku Station on the Chuo-Sobu Line. Koenji is more about "nightseeing" than "sightseeing," but of any station west of Shinjuku on the Chuo-Sobu Line, it has the liveliest atmosphere, and is renowned as a center of alternative culture in Tokyo, especially Japanese punk. The local population is very youthful, thanks to the large number of cheap one-room, student-oriented apartments in the area.
Koenji's underground cred is reinforced by a decided lack of development-driven, high-rise glamor. The streets retain the look of the Tokyo of two or three decades ago. It is full of low-budget down-to-earth eateries (mainly yakitori and izakaya), ethnic restaurants, shot bars, so-called "live houses" featuring mostly rock-inspired bands, the odd head shop, "massage parlors" (down the red-light alley just west of the station), and scores of used clothing and record shops - mainly on the south side of the station.
Koenji Temple, after which the area takes its name, is 300 meters south-east of the station.
Koenji's annual Awa Odori Festival takes place every 27-28 August.
Koenji can be accessed by the Chuo-Sobu Line (Koenji Station). The Marunouchi Subway Line (Higashi Koenji Station or Shin-Koenji Station) will also get you there, but are a long hike from the JR Koenji Station which forms the center of the action.
Parks, Theme Parks, Shrines & Temples
Korakuen Theme Park/Tokyo Dome
Korakuen is home to Tokyo Dome, which is where the Tokyo Giants baseball team plays its home games. Tokyo Dome is part of Tokyo Dome City, that includes the Tokyo Dome Hotel, the rest and relaxation complex, La Qua, and an amusement park with rides (closed at present due to an incident in January 2011).
Suidobashi Station is the closest stop. The Chuo-Sobu Line, Marunouchi Subway Line, Mita Line, and Nanboku Line all pass through Suidobashi station. Also, in the Tokyo Dome complex, the Japanese Baseball Hall of Fame and Museum is a fun and educational visit for baseball fans.
Ueno Park

Ueno Park is part of Taito-ku: one of Tokyo's oldest and most down-to-earth districts. The Park offers you both sides of Taito: its earthiness and its elegance, in one big green playground. It is the grandfather of all Tokyo parks, having the longest history, being one of the biggest, and packed with far more attractions than any other.
Even if your stay in Tokyo is a short one, a day in Ueno Park is highly recommended. With museums of all kinds, Tokyo's biggest concentration of temples, a lotus pond, a zoo, and woodland, there is something for everyone of any age and inclination.
Shinjuku Gyoen Park

Shinjuku Gyoen Park: an ancient feudal estate that has maintained its integrity, was redesigned by a Frenchman to reflect the best of Eastern and Western outdoor aesthetics, and is now a meandering idyll of peace and quiet, and stunning seasonal beauty, in the midst of one of Tokyo's most commercially manic districts.
Meiji Shrine/Yoyogi Koen
Yoyogi Park, which is adjacent to the Meiji Shrine, is a short walk from Yoyogi Station on the Yamanote Line. It features the site of the 1964 Olympics. Kenzo Tange's Yoyogi National Stadium was built for those Games and is still a Tokyo landmark. The Meiji Shrine, completed in 1920, is Japan's most famous Shinto shrine, and Yoyogi Park is a large, dense area of green tranquility in which the buzz and hum of the city quickly recede.
Inokashira Koen Park
Inokashira Koen is close to the now trendy area of Kichijoji. The nearest station is Kichijoji Station on the Chuo-Sobu Line or Keio Inokashira Line, which runs from Shibuya Station. Inokashira Koen is a lovely park with a pond and zoo and training grounds. Great for cherry viewing in the spring. Warning: legend has it that couples who take a spin on one of the rental row boats on the pond are destined to break up!
Sengaku-ji Temple
Sengaku-ji Temple is forever associated with the story of the 47 Ronin and their master Lord Ako, who are all buried here. Ako was forced to commit ritual suicide - seppuku (known more popularly to Westerners as harakiri) - after drawing his sword on a rival warrior Kira Yoshinaka in Edo Castle. His followers avenged his death by killing Kira and were then allowed to commit suicide and be buried alongside their master.
Sengakuji Station on the Asakusa Subway Line.
Asakusa Temple

Asakusa Temple AKA Senso-ji is reputed to be Tokyo's oldest temple, dating back to 628, and its huge 3 meter red paper lantern is one of Tokyo's most recognisable motifs. Sensoji Temple is always bustling with visitors who come to pray to Kannon - the Buddhist Goddess of Mercy.
Asakusa Station on the Ginza Subway Line (open 24 hours).
Read more about Asakusa
Yasukuni Shrine

A huge grey torii marks the entrance to one of Japan's most controversial sites - Yasukuni Shrine. Founded in 1869 to honor the souls of the soldiers killed in the campaign to restore the Meiji emperor to power, the shrine is now dedicated to Japan's war-dead in all subsequent wars. Over 2.5 million souls are enshrined here, including war dead from the Pacific War (read here about the kamikaze) as well as Japan's World War II leader General Tojo and those found guilty of war-crimes by the Allies after World War II. Visits by Japanese politicians invariably raise a storm of protest in China and Korea, but for many of the older generation Yasukuni is simply a place to remember family and friends lost in the Pacific war.
Kudanshita Station (Toei Shinjuku, Tozai, Hanzomon Lines).
Budokan

The Nippon Budokan martial arts hall located in Kitanomaru Park was built in 1964 to host the judo events at the Tokyo Olympics of the same year. The Budokan is now used as a venue for sports meets, martial arts practices (which are often open to the public), graduation ceremonies and rock concerts. The Budokan contains three halls, the largest of which holds 14,000 people and the building is modeled after the octagonal hall in Horyuji Temple in Nara. Among other famous bands such as Bob Dylan and Deep Purple, the Beatles performed their first concert in Japan here in 1966. On August 15 (the anniversary of the end of World War II), a national ceremony to mourn Japan's war dead is held, attended by the imperial family and the Prime Minister. Tel: (03) 3216 5100
Kudanshita Station (Toei Shinjuku, Tozai, Hanzomon Lines).
Yume no Shima ('Dream Island')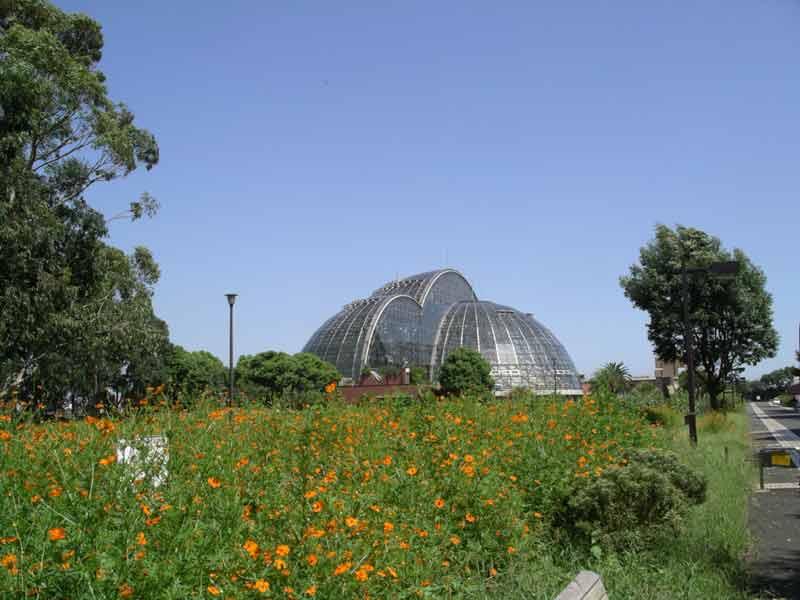 Located in Tokyo's industrial Koto ward bordering Tokyo Harbor, Yume no Shima Koen is a splash of freshness in a landscape of gargantuan blank-faced warehouses between which runs an endless convoy of trucks and vans. Located near Tokyo's driver's license center in Koto ward.
Yume no Shima began life as a landfill and dumping ground, but was rescued from this poor fate in 1972 when it was decided to make it into a park. It is now a verdant space covered mainly with eucalyptus trees and enjoyed by strollers, sketchers, picnickers, sunbathers, and anyone else seeking refuge from the bustle.
Read more about Yume no Shima
Tokyo Museums
For a full listing of Tokyo Museums & Art Galleries click here
Grutt Pass

Grutt Pass (pronounced 'goo-ROO-to,' - Japanese onomatopoeia for 'going around').
Museum-going in Tokyo just got a little easier. For only 2000 yen, the Grutt Pass enables the holder entry to the permanent exhibitions of 49 of Tokyo's most prominent museums, including the Ueno and Tama zoos, and discounts off the entry fee at 18 more. All of the city's major museums are listed, from the national galleries in Ueno to facilities as far west as Tama. (Note that special exhibitions may not be covered by the Grutt Pass.) The Grutt Pass is good for two months from the date of purchase and can be purchased at all of the participating institutions, Lawson convenience stores, JTB travel agency, Kinki Japan Tourist, and Ticket Pia (0570-02-9999).
Go here for a list of Tokyo museums and other attractions that accept the Grutt Pass.
Eat and Drink
Tokyo has every kind of restaurant, bar and cafe imaginable and some more. Restaurants in Tokyo range from the ultra expensive and exclusive to down-to-earth noodle joints. After dark, Tokyo offers some of the best and most exciting bars, cafes and clubs on the planet to relax and unwind in.
Tokyo Map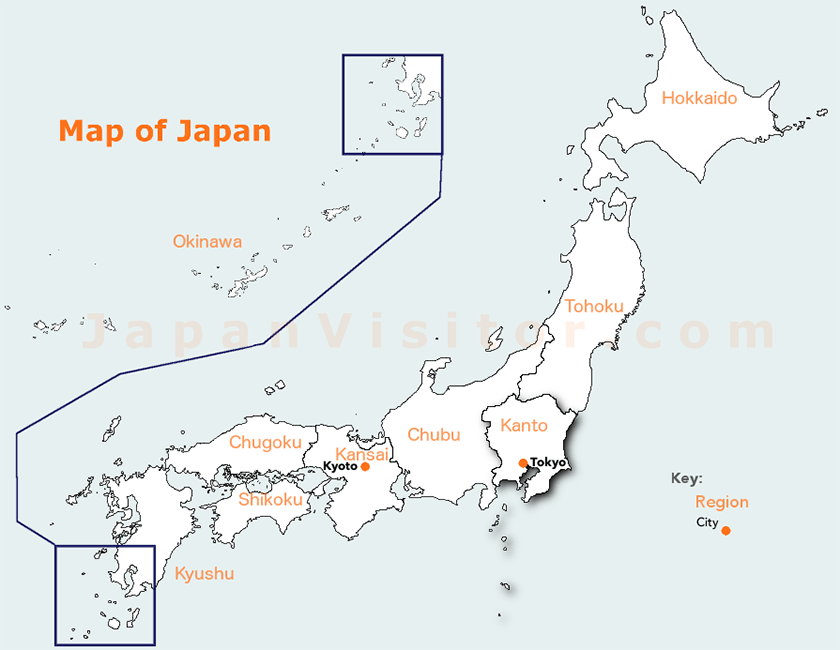 Tokyo Map
Tokyo Attractions Guide: See Tokyo temples, shrines, museums, parks, theme parks - Sightseeing in Tokyo, Japan including Shinjuku, Shibuya, Odaiba, Ginza, Toyosu, and more.
All the themes of the city