5 Original Themed Restaurants in Tokyo
テーマのあるレストラン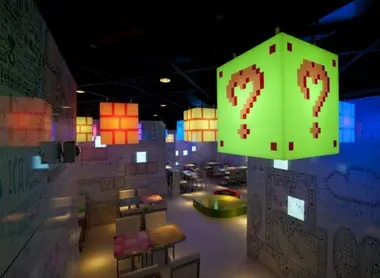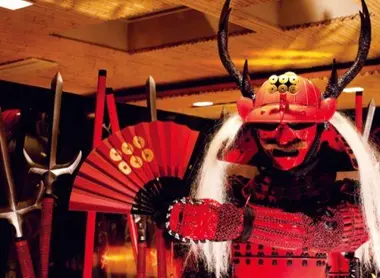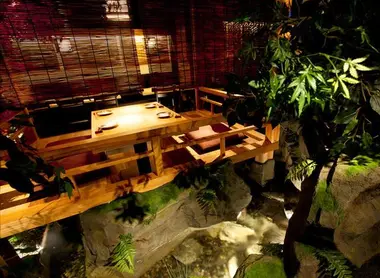 More than just a dinner
In a city like Tokyo, originality is paramount for restaurants. Discover some of the most remarkable.
We have already written about Zauo and the Robot restaurant. These are far from the only themed restaurants in the capital. Here is a quick overview. 
Maidreamin's
Located in Shibuya, Maidreamin's is actually a maid café that serves lunch. A fun atmosphere, with a Super Mario video game like decor,  2D waitresses (on the walls) or 3D (who bring you your order). Here you will discover the next level of kawaii (cute) and eccentricity that one often associates with Shibuya.
Maidreamin's: Horaiya BLDG.B1F, Shibuya-ku Tokyo 30-1 Udagawacho 150-8010 Japan3-6272-3263, 03-6272-3263.
Book a table on Voyagin website.
Ninja Akasaka
The best know themed restaurant of Tokyo. A dark hidden village atmosphere, to the point that the restaurant itself is hard to find. But the place has good food with a show that is worth the trip. You are served courses in accordance to the theme by ninjas. For example shuriken crackers. The restaurant certainly gets you in the ninja atmosphere. Site
Akasaka Ninja Akasaka: Tokyu Plaza 1F, 2-14-3, Nagatacho, Chiyoda, 03-5157-3936, reservations required. Akasaka Tokyu Plaza 1F, 2-14-3, Nagatacho, Chiyoda, 03-5157-3936
Sengoku Buyuden
As you enter the samurai restaurant located in Shinjuku, you will find yourself in a very detailed decor: armours, banners and scrolls are all around. The food is inspired by the classic recipes. A place perfect for lovers of Japanese history. Site (in Japanese)
Sengoku Buyuden: T-wing building 4F, 1-6-2, Kabukicho, Shinjuku-ku, Tokyo, 050-5890-1582, reservations recommended. 
Kyomachi Kyoshigure
This restaurant in Shinjuku recreates the atmosphere of the old streets of Kyoto. An unusually detailed décor to go with a kitchen in the taste of Kyoto, more lightly seasoned and refined. An evening that will take you back to the Edo period. Site (in Japanese)
Kyomachi Koishigure: 3-27-10, Shinjuku, Shinjuku-ku, Tokyo Musashino Building 6F, 050-5869-7459, reservations recommended.
Shimantogawa
It is a bit of an exception to themed restaurants, since this one invites you into a small provincial village, in the prefecture of Kochi. The atmosphere of the little port village is really prevalent. The restaurant gives you the opportunity to dine as if you were at the local izakaya and the chance to try their specialties, especially seafood. The idea is to find the nostalgia of these small communities. The specialties of Kochi are absolutely delicious. The restaurant is located in Yurakucho. Site
Shimantogawa: 2-1-21, Yurakucho, Chiyoda-ku, Tokyo, 050-5890-1591, reservations recommended.
This is only a very partial selection. Tokyo still has many other themed restaurants offering shows, discoveries and other surprises. To be continued ... 
Découvrez Akihabara, la capitale des Otaku
All the themes of the city