Kenrokuen Garden Kanazawa
Kenrokuen Garden Kanazawa 兼六園
Caroline Lewis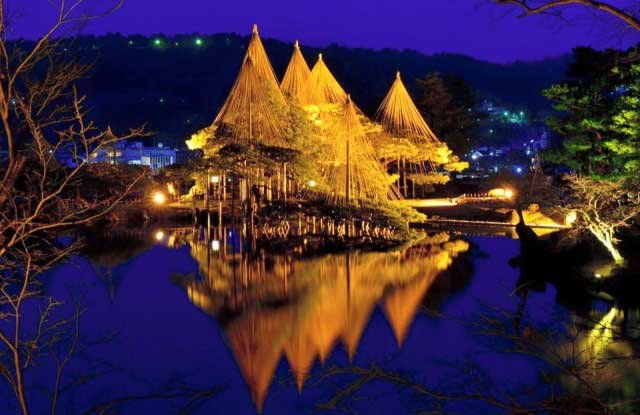 Kenrokuen Garden, Kanazawa
No matter what season you go to Kanazawa, a visit to Kenrokuen Garden is not to be missed.
In spring, you approach the entrance via an avenue of cherry blossom trees gently shedding their blossoms like a pinkish-tinged snowfall.
In summer, the greenery, with irises dancing on the sparkling water, is a welcome escape from daily hustle and bustle and heat.
In autumn, the glowing maple leaves encourage you to linger.
In winter, the garden is, in some ways, at its most extraordinary. The pine trees are protected by wigwam-like rope structures (yukitsuri) to protect them from the snow, and the garden is peaceful under a white blanket.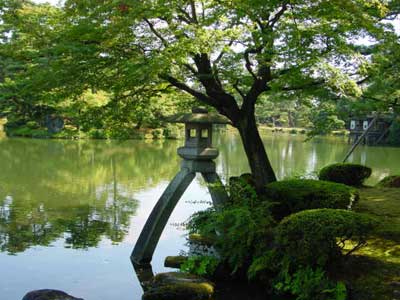 Stone Lantern, Kenrokuen Garden, Kanazawa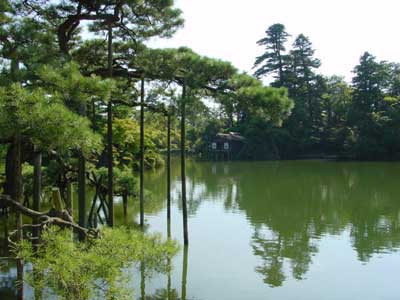 Lake and tea house, Kenrokuen Garden, Kanazawa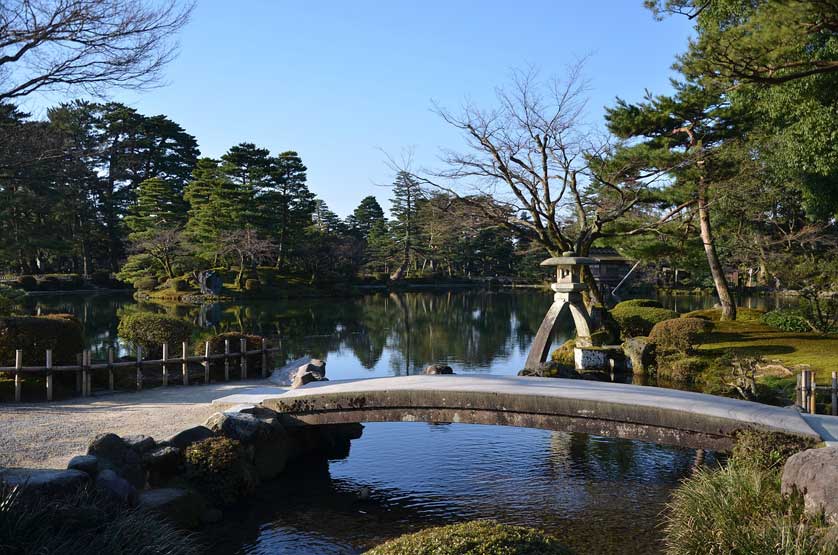 Kenrokuen Garden, Kanazawa, Ishikawa Prefecture
History of Kenrokuen
The name of Kenrokuen literally means, "the garden of six sublimities" or, "a garden combining the six aspects of a perfect garden". These six features were what the Chinese traditionally believed were necessary for the ideal garden - spaciousness & seclusion, artifice & antiquity, water-courses & panoramas. It is rare to find a garden that combines all these characteristics and so the people of Kanazawa are particularly proud of theirs. It is one of the three most famous gardens in Japan - the other two being Korakuen (Okayama) and Kairakuen (Mito).
Kenrokuen used to be the outer garden of the nearby Kanazawa Castle and there has been a garden on the site since the late 1600's. It is said to have been begun by the 5th Maeda lord, Tsunonori Maeda. The original garden was called Renchi tei, but was almost entirely burnt out in 1759, was restored in the 1770's and became known as Kenrokuen in 1822.
The site has greatly changed since then, as the villa buildings were later torn down to create a much larger garden space, which remained the private garden of the Maeda family, not fully open to the public until 1874. At times now, it feels as though it has gone to the opposite extreme - at peak times, coachloads of visitors swarm around the main pond, taking pictures in front of the famous Kotoji two-legged lantern and listen to guides telling them through the megaphone about the "peace and tranquility" of the garden.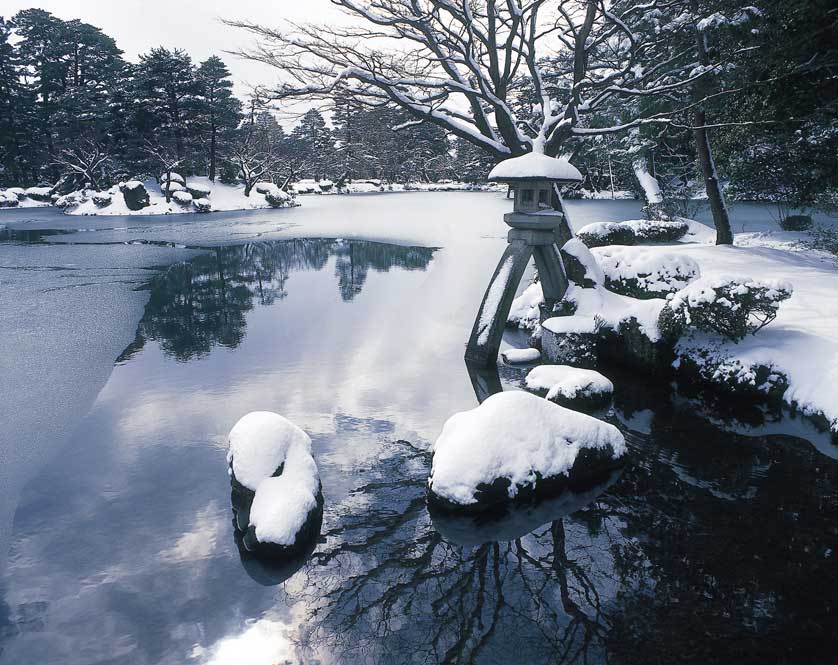 Kenrokuen Garden, Kanazawa, Ishikawa Prefecture
Features of Kenrokuen
Kenrokuen is big, covering over 11 hectares (almost 25 acres) so in spite of being one of Japan's most popular tourist attractions, you're usually able to find a corner just for yourself. One of the best places to retreat to is at the top of either of the two small hills in the garden - Yamazaki yama is at the back of garden as you come in past the Kasumiga ike (pond) and keep walking straight on.
Yamazaki yama has a lovely little shelter and bench (useful if it is raining) where you can look down through the trees. The other is Sazae yama, reached by a winding path up to the side of Uchihashi tei (tea house). Very few visitors make the effort to climb up here and you will have wonderful views over the pond, the tea house and the Kotoji-toro stone lantern at the far end of the pond. In winter when the leaves aren't so thick, you can see right down the hill into the city of Kanazawa and onto the river. The only people here are usually those sketching or simply contemplating peacefully.
However, you can't hide from other people all day. The garden offers a lot to see and a fair area to wander round, although I would still recommend an early morning or late afternoon/evening visit to get the most out of it (especially in spring and winter when the opening hours are extended.) The garden has various ponds, streams, fountains, bridges and teahouses as well as the famous two-legged Kotoji-toro stone lantern, and the carefully planted trees and flowers.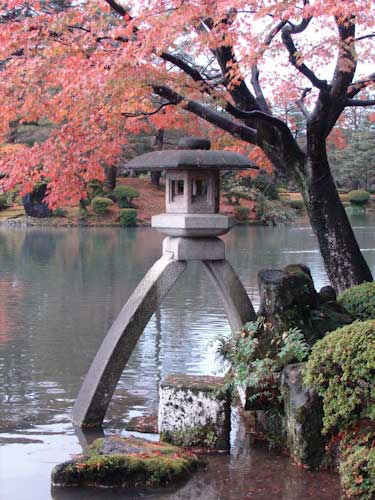 In Kenroku-en, Kanazawa, the distinctive Kotoji-toro stone lantern with twin pedestals of differing lengths has become an icon of the city.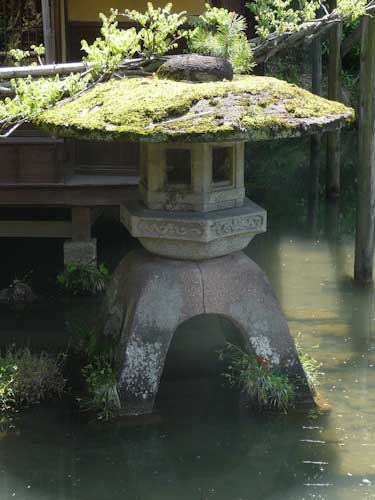 This squat stone lantern stands in water, Kenroku-en, Kanazawa.
Exploring Kenrokuen
There are two main entrances to Kenrokuen, with many people arriving from Kanazawa Castle Park across the north-eastern Ishikawamon bridge. The other is is the south-western Mayumizaka entrance, across from the 21st Century Museum of Contemporary Art. Enter by the Ishikawamon for the famous view of the Kasumiga Pond and the Kotoji lantern on your right. In winter is the sight of snow-protected pine trees. This is usually the busiest area of the garden. As you continue, you will pass the Meji Memorial to those killed in the Satsuma Rebellion of 1877-8. Going straight on, you climb up Yamazaki yama, but bearing right will take you across a meandering stream, full to the brim with irises if you come in summer. In spring time, you can stop at the "hanami bridge" and indulge in photographs under the cherry blossoms.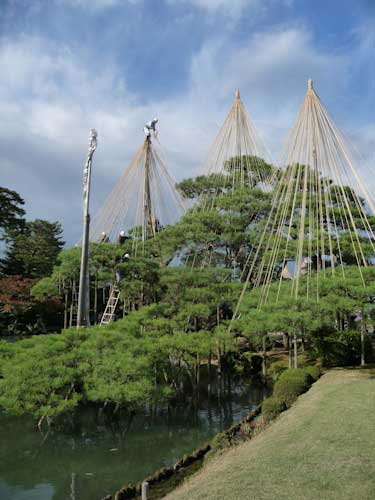 Each November gardeners in Kenroku-en, Kanazawa, create what amounts to a series of outdoor art pieces as they raise poles and suspend ropes to protect the most important of the garden's trees with Yuki-tsuri.
On the left, you see Seisonkaku villa, which was built for the wives of the Maeda family. Originally it was called Tatsumigoten and covered a much greater area. The beautifully preserved house has notable features such as sliding doors with Dutch painted glass inserts, but unpredictable opening hours, so check in advance if you want to visit.
Continuing south, you head towards the older part of the garden, and on the far side of the main pond, at the foot of Sazae yama, is your first tea house, where you can stop for a cup of matcha or, more likely these days, a cola or Pocari Sweat. Continuing on, you reach the plum garden via a series of paths meander through this usually quiet corner of the gardens.
Turning right, you pass the Shiguretei tea house, which if you are lucky, will be open for a special event. During the snowy winter season, the teahouses are used for events such as geisha dinners, and peeking through the shoji screens and seeing a beautifully decorated lady playing the koto or doing a fan dance, a visitor could imagine being back in the days when the tea houses were first built.
Moving on and up, you find the other large pond, Hisago-ike, which is the first feature of the gardens you encounter if you enter by the Renchi-mon gate. Hisago pond has the 6.6 meter (21 foot) high Midori Waterfall pouring into it, created in 1774, and the other lovely old teahouse, Yugaotei perching precariously on its edge, also built in 1774 and the only building in Kenrokuen that has never been rebuilt.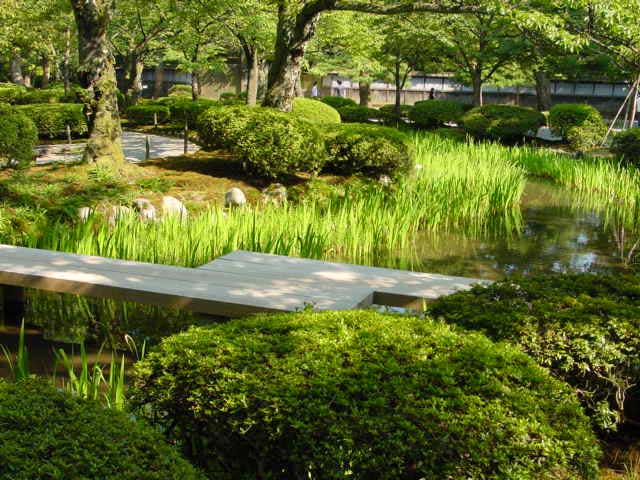 Hisago-ike Pond, Kenroku-en, Kanazawa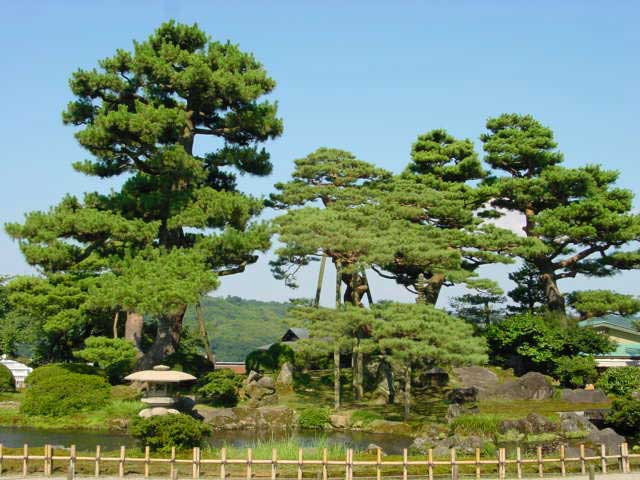 Kenroku-en, Kanazawa-shi, Kanazawa Prefecture
Finally, as you head back towards the Ishikawamon gate (i.e., the Kanazawa Castle direction), you will hear other sounds of flowing water. Across from a rather ugly area of vending machines and snack sellers is the first fountain in Japan, built in the late 19th century, and operating by natural water pressure. Although the hill of Kenrokuen is 50 meters above sea level, the water comes from the Saigawa River from an even higher elevation. A tunnel system still brings the water for the four ponds and various streams from the river into the garden.
To round things off, you could head back up past the gates to the observatory point, which has a fine view over Kanazawa city. But I would suggest finding a quiet spot, perhaps climbing one of the hills, and just contemplating the beauty that we are so fortunate has been preserved for us to enjoy.
Kenrokuen Garden
1-1 Marunouchi
Kanazawa Ishikawa
Tel: 076 234 3800
Admission 310 yen
Hours: 7 am - 6 pm March 1-October 15; 8 am - 5 pm October 16 - end of February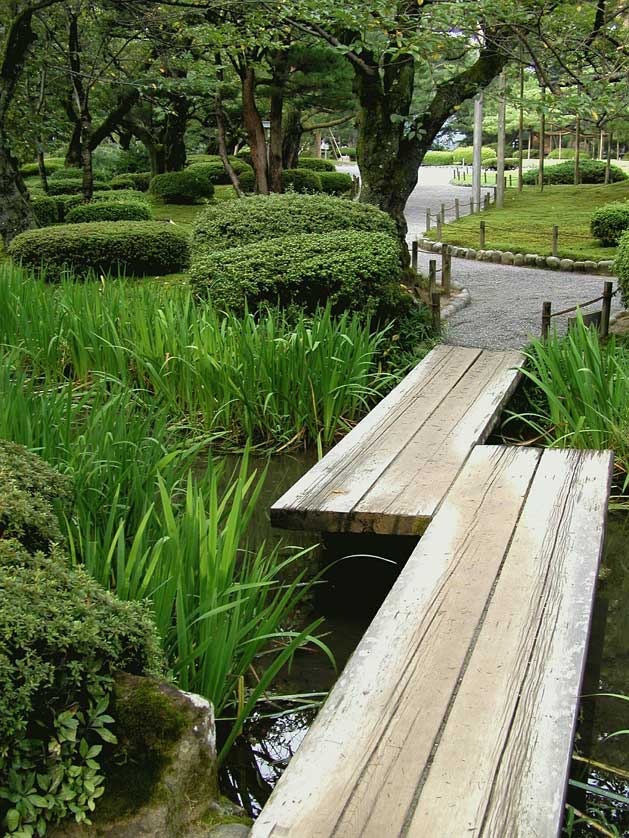 Kenrokuen Garden, Kanazawa - one of the top three gardens in Japan
Some recommended places to stay in Kanazawa are:
Near the station: ANA Crowne Plaza Hotel; Kanazawa Miyako Hotel
City center: Various small ryokan (notably the recommended Murataya for good value and central location)
Tourist Information
Kanazawa Tourist Information Center
Kanazawa Station
Tel: 076 232 6200
Kenrokuen Access
From Kanazawa Station there are buses run by Hokuriku Railroad ("Hokutetsu") and Japan Rail West ("JR West").
Hokutetsu Buses
Kanazawa Loop Bus
The Kanazawa Loop Bus is a right-loop and left-loop bus service that serves most of Kanazawa's sightseeing spots. Korakuen is stop number 8 on the right loop and number 9 on the left loop. Both buses depart from Kanazawa Station East Gate Bus Terminal No.7 every 15 minutes from 8.30 am to 6 pm. Takes about 20 minutes. 200 yen per ride, or 500 yen for a day pass.
Kenrokuen Shuttle Bus
The Kenrokuen Shuttle Bus is a bus between Kanazawa Station and Kenrokuen Garden that also makes stops along the way. It departs from Kanazawa Station East Gate Bus Terminal No.6 every 20 minutes from 9.30 am to 5:50 pm. Takes about 20 minutes. 200 yen per ride on weekdays, 100 yen on weekends and public holidays, or 500 yen for a day pass.
Ordinary Hokutetsu Bus
Ordinary Hokutetsu buses also depart from Kanazawa Station East Gate Bus Terminal Nos.6 and 7 for Kenrokuen.
Hokutetsu One-Day Pass
A 500-yen one-day pass is available for bus transport around Kanazawa on all three of the above Hokutetsu bus services. Buy one at the East Exit of Kanazawa Station, from the Transport Information Center Bus Ticket Counter (nearest where you exit the ticket wicket) or the Hokutetsu Bus Ticket Office (on the other side of the bus terminal).
JR West Buses
JR West buses on the Kanazawa-Morimoto route leave from Kanazawa Station East Gate Bus Terminal No.4 for Kenrokuen every 10 to 20 minutes from 6:20 am (or 7:10 am on weekends/public holidays) to 9:20 pm. Takes 12 minutes. JR buses are free with the Japan Rail Pass.
Taxi
A taxi to Kenrokuen from the East Exit of Kanazawa Station takes about 10 minutes and costs about 1,000 yen.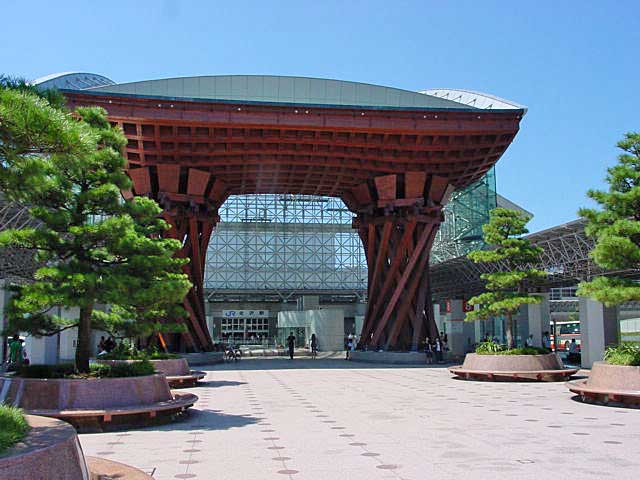 Tsuzumi Gate at the East Entrance/Exit of Kanazawa Station
Getting To Kanazawa
Air
Komatsu Airport (Tel: 0761 21 9803) is 25km southwest of Kanazawa and is linked by Hokutetsu buses (approx. 40 minutes) to Kanazawa station. There are domestic flights to Tokyo (Haneda), Fukuoka, Okinawa, Sapporo and Sendai and international connections to Seoul and Shanghai from Komatsu Airport.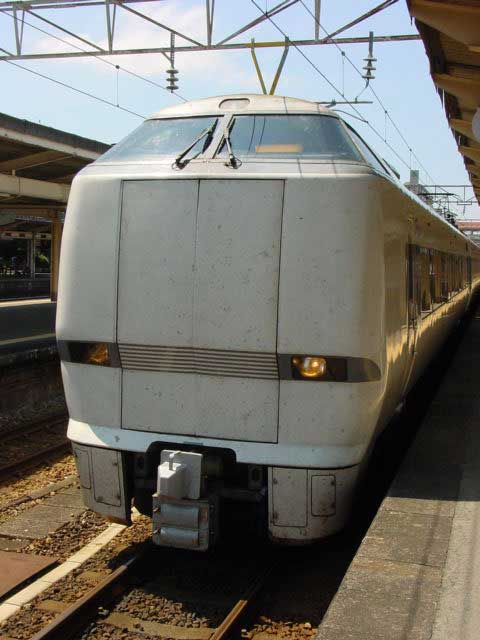 JR Thunderbird Osaka-Kanazawa-Toyama
Rail
Kanazawa is served by the JR Hokuriku Line to Osaka (2 hours, 45 minutes), Fukui (50 minutes), and Kyoto (2 hours 15 minutes).
Until March 2015, from Tokyo you traveled via Echigo-Yuzawa and picked up the Joetsu shinkansen (approx 3 hours 50 minutes) or Tokaido shinkansen from Tokyo changing at Maibara to the express train for Kanazawa (approx 4 hours 30 minutes).
In March 2015 the Hokuriku Shinkansen opened connecting Kanazawa and Toyama with Nagano, Karuizawa and then Takasaki and then on to Tokyo on the Joetsu shinkansen. The Kagayaki shinkansen train is quickest, taking 2 hours, 30 minutes from Tokyo Station, while the slower Hakutaka shinkansen takes 3 hours.
The night trains to Kanazawa from Tokyo's Ueno Station have been discontinued: the all-seat Noto Express (6 hours, 47 minutes) no longer runs and the Hokuriku Express Sleeper (7 hours, 27 minutes) which had couchettes and private rooms was officially discontinued in 2010.
From Nagoya take the Shirasagi service (approx 3 hours). Alternatively take a Hikari shinkansen from Nagoya to Maibara (27 minutes) and then Shirasagi Express to Kanazawa (1 hour, 52 minutes). The JR Nanao Line connects Kanazawa to Nanao and Wakura Onsen on the Noto Peninsula.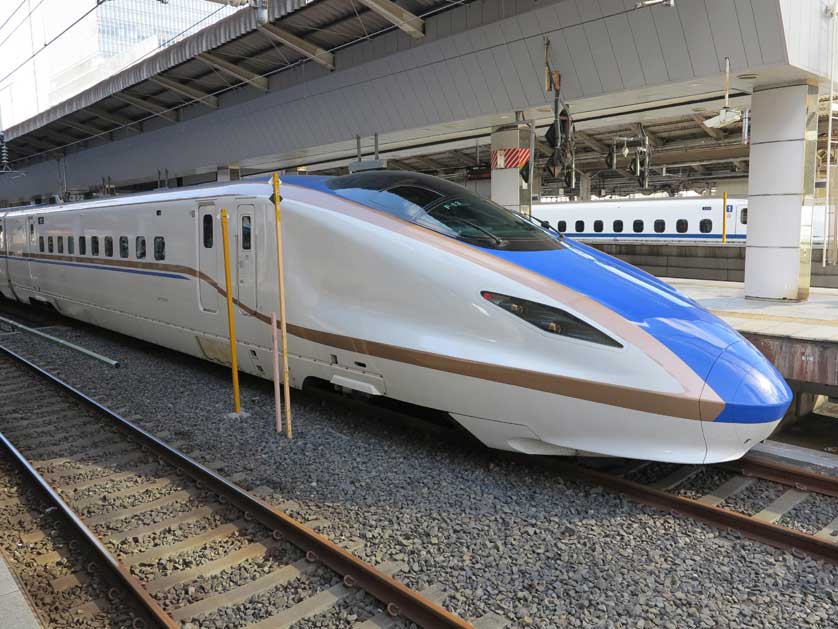 Hokuriku Shinkansen at Tokyo Station
Bus
There are long distance bus services from outside Kanazawa Station to Tokyo (7 hours, 30 minutes), Kyoto (4 hours), Yokohama (8 hours, 20 minutes), Nagoya (4 hours), Sendai (8 hours, 30 minutes), Niigata (4 hours, 40 minutes), Takayama (3 hours) and other destinations.
Buses from Kanazawa leave for Shirakawa-go at 8.10 am, 9.05 am, 10.50 am, 1.25 pm, 2.40 pm and 4 pm. The journey takes 1 hour and 15 minutes. Nohi Bus offers a daily bus tour to Shirakawa-go from Takayama with an English-speaking guide leaving Takayama Bus Terminal at 8.30 am and returning to Takayama at 3.10 pm (6,690 yen for adults).
Nohi Bus information in English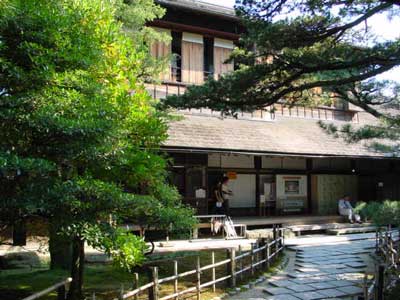 Tea house, Kenrokuen Garden, Kanazawa
Lake, Kenrokuen Garden, Kanazawa
Caroline Lewis
Book Hotel Accommodation in Kanazawa near Kenroku-en
Kenrokuen Garden Kanazawa: read a guide to Kenrokuen Garden in Kanazawa, one of Japan's most famous and popular gardens.
All the themes of the city